Blog
Home
Camp Cayuga is a private nonsectarian residential camp for boys and girls ages 6 to 16. The camp is located on a secluded 350-acre estate in the Pocono Mountains of Northeast Pennsylvania. For over 50 years we have promised a safe, healthy, and fun-filled summer for children. But we deliver much more! We have fostered in children the development of new skills, the sharpening of old skills, the appreciation of nature, and the beginning of lifetime friendships.
Our special features: Separate Teen Campus; Diversified Program with over 60 daily activities; Elective Schedule - select your activities each day with your friends; First-Time Camper Guarantee; Mature Staff and Quality Instruction; Comprehensive Facilities; Friendly Atmosphere; 2, 4, 6, 8 Week Sessions; and Camp Tours everyday. Join us this summer and enjoy your memories for a lifetime!
CAMP OWNER & DIRECTOR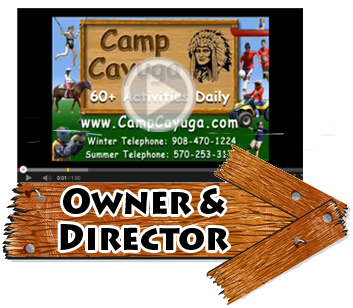 Hi, I'm Brian Buynak, the Owner & Director of Camp Cayuga. Camp Cayuga is "my home away from home"!
I first attended camp in 1957 when I was 3 months old. At that time my parents, Mike & Arline, were the Camp Owners and Directors. Since then, I haven't missed one summer at camp! In addition to being a camper for 11 summers, I've held several different staff positions at camp: Kitchen Helper, Maintenance Crew, Cabin Counselor, Activity Instructor, Waterfront Director, Division Director, Program Director, and Assistant Camp Director. My first-hand knowledge of camp life is reflected in the manner in which I direct and operate Cayuga, including the wide variety of activities, the selection of staff, and the camp policies. I "feel at home" at Camp Cayuga.
Now as Camp Director, I take pride in learning the interests of our campers and insuring that they too "feel at home". I'm the type of Camp Director who really likes to have fun with the kids, but I'm always providing the maturity and leadership that comes with over 30 years of hands-on camp administration experience.
My ACA (American Camping Association) credentials and educational background is as follows:
* Decade-Plus Member of the ACA (American Camping Association).
* Treasurer for American Camping Association NJ Section (1995-1999).
* Bachelor's degree in accounting from the University of Notre Dame (1979).
* Doctorate of Juris Prudence degree from Seton Hall Law School (1982).
* Admission into the NJ Bar Association (1982).
* ACA New Jersey Section Member (since 1984).
CAMPING IS MORE THAN HAVING FUN
During my "camper years", what I enjoyed most about summer camp were the exciting fun-filled activities and the action-packed special events. I can still remember my first horseback overnight, the camp carnivals, the snipe hunt, and my first dance at a social. Camp was loaded with laughter & fun, and from a child's perspective, that's all that mattered.
During my "counselor years" at Cayuga, I began to recognize that the fun experienced by my cabin-group was only the most "visible part" of camping. Being away from parents and the influences of home, the campers were becoming more independent. They were also gaining confidence in their skills at the activities. They learned how to get along with one another and shared the benefits of their toil. It was becoming clear to me that not only were the campers having fun, they were noticeably developing socially, artistically and athletically.
Now in my role as Camp Director, the subtle benefits of camping appear even more visible! I've witnessed the growth of self-reliance as the insecurities of a homesick camper vanish. I've seen how the rewards of achievement strengthen self-confidence. I've witnessed the making of lifetime friendships at camp. And I've seen campers move-up the ranks from Junior to Senior Division... gaining self-esteem along the way.
I recall as a child listening to my parents (who at the time owned & directed Cayuga) discuss how instrumental summer camp can be in the development of a child. As Owner & Director, I now fully understand and appreciate what my parents believed and couldn't agree more! Indeed, "camping" is unlike any other life experience.
Mike and Arline Buynak, my parents, started a great journey in "camping" back in 1957 and I'm very proud to be part of it today. "Camping" has changed in many ways over the years, but there's no question one thing hasn't changed... The Value of Camping! It goes well beyond the visible part of just having fun.
Camp Cayuga is a very special place for kids. For me personally, it's rewarding and pleasurable to share the "camp experience" with youngsters each summer, and I look forward to sharing the same experience with your child this summer.
Camp Cayuga... It lasts a lifetime!
Brian Buynak
LOCATION AND CLIMATE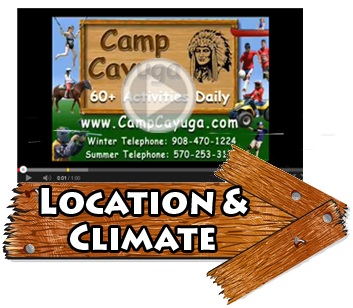 Camp Cayuga is nestled high in the Pocono Mountains of northeastern Pennsylvania. Set on a wooded estate just outside the village of Honesdale, Camp Cayuga is a 3 hour drive from New York City and Philadelphia. The camp itself occupies 350 acres of unspoiled hardwood and evergreen forestland, embellished with expansive fields and a natural stream-fed lake. Our lake is private and reserved exclusively for the use of our campers. Similarly, our camp is private and situated so as to preserve its seclusion. The most outstanding feature of the site is its natural beauty!
Camp Cayuga's location in the Pocono Mountains provides warm sunny days and cool crisp nights. The mountain air is clean and dry which is a welcome change from the hot and humid sea level climates. The area is also low in pollen and not bothered by mosquitoes and other annoying insects.
NAVIGATION INFORMATION
Location: PA-4019, Honesdale. Latitude: N 41°, 39' 48". Longitude: W 75°, 16' 25". Elevation: 1310 feet. It has come to our attention that some families are receiving inaccurate driving directions to Camp Cayuga from their automobile's navigational system, as well as on-line sources (MapQuest and MapBlast) for driving directions. For the most part, these sources are correct until you reach the village of Honesdale. After that point, some navigational systems & on-line sources contain errors. Driving directions traveling north that include Bates Road or Route 371 are incorrect! It's best to use the driving directions and travel map we've provided on this website. Have a safe trip! Click here for driving directions and travel map.
CAMP PHILOSOPHY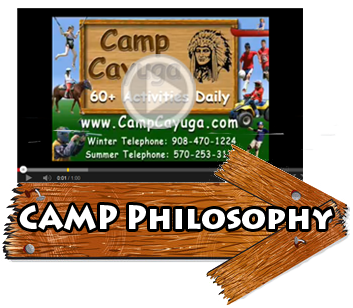 Since our beginning in residential camping (1957), the Buynak Family has promised a safe, healthy, and fun-filled summer for children. But we deliver much more! For over 50 years, we have fostered in children the development of new skills, the sharpening of old skills, the appreciation of nature, and the beginning of lifetime friendships. As we enter this coming season, our camping philosophy remains unchanged. We are committed to bringing children of diverse backgrounds together in a healthy camp environment where the youngster will be given the opportunity and the help to develop artistically, athletically, and socially. Our youngsters will learn the importance of friendship, independence, and cooperation with others - all of which are instrumental in a child's development. Camp Cayuga ... It lasts a lifetime!
OUR DIVERSE CAMP POPULATION
Each summer campers travel to Camp Cayuga from across the United States and from abroad as well. Most of our campers are from the metropolitan areas of New York, New Jersey, Pennsylvania, Connecticut, Maryland, and Virginia. At the same time, we still continue to have a diverse camper and staff population who last summer traveled from 26 different states, such as: Florida, Texas, California, Arizona, Massachusetts, Vermont, New Hampshire, Maine, Washington DC, Delaware, Ohio, Illinois, Michigan, Kentucky, Wisconsin, and North Carolina, to name a few. We also welcome international children into our summer program, who last summer traveled from 17 countries, some of which include: Spain, France, Switzerland, Venezuela, Japan, Dominican Republic, United Kingdom, Italy, Russia, Monaco, and Thailand. It's really interesting to watch these international youngsters as they learn the English language and experience the American culture from their cabinmates. The value of such an exchange can't be underestimated. This is one of the benefits of Cayuga's unique camper population.
RELIGION
Camp Cayuga is a nonsectarian camp with campers of various religious affiliations. Religious services are available and attendance is voluntary. For campers of the Jewish faith, we offer a voluntary lakeside service on Fridays. Christian campers, who are interested in attending religious services, are transported to Honesdale where churches of various denominations are located.
COUNSELORS & SENIOR STAFF
Since our beginning in 1957, we have maintained the belief that "Camp Staff" is the most important factor in ensuring a positive and enjoyable experience for our campers. For this reason, we place special emphasis on interviewing individuals who have demonstrated competency in working with children and the capacity to provide warm mature guidance. Child psychology and elementary education are two areas of studies for most of our counselors. Our youngest staff member is entering their sophomore year of college. Some counselors are university graduate students, while the average age counselor is 21 years old. All new and returning staff participate in a week-long comprehensive orientation and training program prior to the arrival of our campers. Cayuga's counselors are selected from fine universities throughout the United States and Europe. The majority of our counselors travel to camp from the Midwest states of Michigan, Iowa, Indiana, Kentucky, Wisconsin, Missouri, Ohio, Kansas, and Illinois. Approximately 10% to 15% of our cabin counselors travel to Cayuga from English speaking countries such as: Great Britain, New Zealand, South Africa and Australia. Many counselors are recommended to us by other Cayuga staff, and approximately 50% of our staff members return to Cayuga each summer.
SENIOR STAFF
Camp Cayuga is actively supervised by the Camp Directors. Assisting them are over 40 Senior Staff members who ordinarily have experience as professional educators, school teachers, coaches, and/or guidance counselors, and eagerly assume the responsibilities of: Assistant Camp Directors, Staff Directors, Division Directors, Program Directors, Elective Program Directors, Evening Program Directors, Special Events Directors, Trips Director, Transportation Director, Medical Staff, and Administrative Staff. Cayuga's Daily Activity Program is categorized by departments which are supervised by adult staff who act as Directors of: Athletics, Waterfront, Lakefront, Creative Arts, Performing Arts, Horsemanship, Flying Trapeze & Circus, Tennis (certified USTA professional), Wilderness & Adventure, Intercamp Tournaments, and Academics. Each age division (Juniors, Intermediates, Seniors, Super-Seniors) is actively supervised by a male and female Division Director who is dedicated to knowing every camper in his/her division and his/her interests. The Division Director's sole responsibility is to supervise his/her division which includes working one-on-one with the campers & assisting the cabin counselors. All Senior Staff members live on the camp premises and are available to our campers on a 24-hour basis. Our staff to camper ratio is 1 to 4.
MEDICAL STAFF
Under the direct supervision of our Camp Health Supervisor, 6 to 8 medical professionals and assistants monitor the health and well-being of all campers & staff. The camp medical staff have experience in pediatrics and emergency medical care. All camp medical personnel reside in the infirmaries and are available 24 hours daily.
The Junior Campus and Teen Campus Infirmaries are staffed at all times and are fully equipped to provide first-aid and minor treatment. Each infirmary consists of a treatment room, isolation room, separate sleeping quarters with private bathrooms for boys and girls, kitchenette, and private bedrooms for each medical staff member. Camp Cayuga's physician, who practices pediatrics at a local medical clinic, is less than 10 minutes from camp. Campers who require emergency medical care are treated at either the Wayne County Memorial Hospital in Honesdale (10 minutes from camp) or the Marian Community Hospital in Carbondale (20 minutes from camp). These hospitals have earned a fine reputation and provide 24-hour medical care where a variety of specialists are available.