Blog
MORE TRIPS AT CAMP CAYUGA!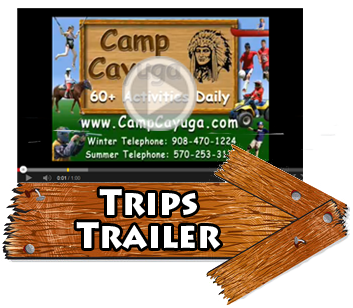 BACKPACKING TRIPS

Backpacking Trips take place at Ricketts Glen State Park which is located less than an hour from Cayuga. The Park boasts a series of wild, free-flowing waterfalls, including "Ganoga Falls" that's 94 feet high! Ricketts Glen is one of the most scenic areas in Pennsylvania. It's a fun trip of hiking, sightseeing, and camping-out! Backpacking trips are optional and camper participation is voluntary. All campers are eligible to attend as long as you're deemed physically mature to hike the terrain. You're required to supply your own sleeping bag, hiking boots & water canteen (or sports bottle). All other necessary items & equipment (backpacks, energy snacks, food, etc.) are supplied by Camp Cayuga. Backpacking Trips are typically scheduled every 2 weeks, and are included in the tuition. No advance registration form is required. If you want to go, you simply sign-up in the morning on the day of the trip. These trips don't appear on the "Calendar of Events" webpage since the dates are random.

GOLF COURSE TRIPS

Trips to the local golf course for a round of golf (9 holes) are scheduled about once a week. We play at Cricket Hill Golf Course, which is located about 30 minutes from camp. One Cayuga staff member is assigned to each foursome. Camp Cayuga supplies the golf clubs/bags and golf balls. (You are permitted to bring your own golf clubs to camp.) Golf trips are optional and incur an extra charge. All campers are eligible to participate as long as you're deemed qualified to play on a public golf course. No advance registration form is required. You simply sign-up in the morning on the day of the golf trip. For Golf Trip dates, go to "Calendar of Events", or click here. For trip fee information, go to "Enrollment Details", or click here.

CANOE TRIPS & RAFTING TRIPS
Canoe Trips and Rafting Trips take place on the Delaware and Susquehanna Rivers. They're scheduled about once every 2 weeks for qualified campers who have passed Cayuga's "deep water test" and "canoe test". Canoe Trips are included in the camp tuition. Rafting Trips incur an additional charge. For trip fee information, go to "Enrollment Details", or click here. For trip dates, go to "Calendar of Events", or click here.

PIZZA PARTY TRIPS
Trips to the local pizzeria take place on special occasions. It's a short 10-minute drive from camp, which gives you enough time to chill-out & enjoy 'great' pizza for lunch, and still return to camp on-time for your afternoon activities. It's not only the delicious pizza that makes these trips so popular - it's simply fun to get off-camp once in a while. These trips don't appear on the "Calendar of Events" webpage since the dates are random.

THEATRE TRIPS

Trips to local playhouses are scheduled when the play's subject matter is deemed appropriate for children. Theatre Trips take place at 2 playhouses, both within 30-45 minutes from camp. No registration form or advance sign-up is required. Campers simply sign-up at camp. Theatre Trip dates do not appear on our "Calendar of Events" since the dates are random.

VISITING DAY MYSTERY TRIP

Campers, who are not expecting visitors, are required to attend the Visiting Day Mystery Trip. The only excused children are those who have written parental permission to remain at camp with an authorized adult. It's an action-packed full-day trip. We depart camp before 10:00am (when Visiting Day begins) and return to camp after 4:00pm (when Visiting Day is over). This trip is not included in the camp tuition. The trip fee includes admission fees, lunch meal, and roundtrip transportation. For trip fee information, go to "Dates & Fees", or click here.

ALL CAMP TRIPS
Prior to the arrival of our campers, all Cayuga staff members receive training in off-camp trip procedures, general transportation safety regulations, emergency accident & medical procedures, group management procedures, and have familiarized themselves with Cayuga's emergency communication plan. Cayuga follows the trip guidelines set forth by the American Camping Association (ACA) and has exceeded their standards on every inspection. We are committed to the highest safety standards established for the camping industry and are proud to operate an accredited ACA camp. Safety is #1 at Camp Cayuga!
CAMP CAYUGA WINTER REUNION
A TRADITION AT CAYUGA

The Annual Winter Reunion is a tradition at Camp Cayuga and a special event we all look forward to each year. It's a great opportunity to get together and renew summer camp friendships. The Cayuga Reunion is always a fun time for everyone!
WHEN
To be determined.

WHO IS ELIGIBLE TO ATTEND
Invited Cayuga Campers from last summer, their siblings, and their parents/drivers.
WHERE
"SPACE" is located at 491 South Dean Street, Englewood, New Jersey 07631. For driving directions, click here. Pass Jerry's Gourmet Deli, go under the Route 4 overpass, and continue for 2 blocks. It's on the left side. The cross streets are Rockwood Place and East Sheffield Avenue.
"SPACE" (formerly SPACE ODYSSEY)
· SPACE is a huge indoor Family Entertainment Center. It's loaded with 26,000 square feet of entertainment including hundreds of amusing games and attractions. It's the coolest "space" for galaxy fun! For more information about SPACE, click here.
· The Arcade Room includes over 100 high-tech video games and redemption games like "Deal or no Deal", "Guitar Hero", and so many others. The Arcade Room features the best games in the metropolitan area.
· Laser Tag is played in a glow-in-the-dark arena. Campers can enjoy this high-tech extreme sport games in an exclusive 3000 square foot area inside Space.
· Thunder Bowl is a really cool glow-in-the-dark Bowling Alley.

SUMMER PHOTO SHOW
When you want to take a break from the arcade games, laser tag, bowling, and all of the attractions Space has to offer, you'll want to stop-by the basketball court to watch 1000's of photographs taken from last summer. We'll be playing Cayuga's Summer Yearbook non-stop! The photographs are guaranteed to bring a BIG smile to your face!
EXCLUSIVE USE
Camp Cayuga has exclusive use of SPACE from 10:00am to 1:00pm. The "general public" will not be permitted to enter SPACE during this time. The only individuals permitted inside SPACE include the Cayuga campers from last summer (who are invited to attend), their parents/drivers, and siblings of Cayuga campers who are eligible to attend camp next summer.
SUPERVISION
Cayuga staff will be in attendance and will supervise the campers while they're inside SPACE from 10:00am to 1:00pm. Parents/drivers are not required to remain at the reunion to supervise their camper. However, if the camper's sibling (non-camper) plans to attend, we kindly ask the parent to remain at SPACE to supervise their non-camper sibling.
PARENTS & DRIVERS
Parents/drivers are welcome to remain at SPACE during the reunion. SPACE has a separate lounge reserved just for parents, as well as other seating areas throughout the facility. (Coffee & bagels will be served between 10:00am - 11:00am in the Parent Lounge.) If you're dropping-off your camper, plan to do so anytime after 10:00am. When picking-up your camper, plan to do so promptly at 1:00pm.
SNACKS & REFRESHMENTS
Camp Cayuga will provide doughnuts and refreshments (juice & bottled water) to the campers. SPACE does feature its own Snack Bar which sells snacks and drinks.
UNLIMITED FUN
Camp Cayuga will provide each camper/non-camper sibling free-of-charge unlimited gaming on all arcade games, and unlimited access to Laser-Tag, and Glow-In-The-Dark Bowling. There is no charge to attend the reunion.
TO REGISTER

If your camper plans to attend the reunion, you're required to complete the Winter Reunion Registration Form. This form will be accessible on our website's "Camp Forms" page in October. Please complete the form in its entirety.
REUNION RULES
Campers should plan to arrive at 10:00am or shortly thereafter. We encourage all campers to stay for the entire reunion! We'll sign-in your camper upon entering SPACE. Once signed-in, your camper will not be permitted to leave SPACE without signing-out. Only parents (or authorized drivers) are permitted to sign-out their campers. Parents/drivers should plan to pick-up their camper promptly at 1:00pm, which is when the reunion ends. We sure hope you can make it!
HORSEBACK RIDING
Camp Cayuga features a top quality Horseback Riding Program in a traditional camp setting, providing campers a well-rounded activity program, with the opportunity to horseback ride everyday! Whether you're a beginner rider or an experienced jumper, you're guaranteed to have fun at Cayuga's Equestrian Center! Daily Horseback Riding is included in the camp tuition.

INSTRUCTION
Horseback Riding Instruction is offered daily on the camp premises. Equitation classes in both English and Western styles are conducted from beginner to advanced levels. Scenic Trail Rides and Jumping Classes are also offered daily. The activity program for "Juniors" includes 2 optional riding periods weekly. Additional periods are available upon parental request. The activity program for our older campers (entering 5th grade & higher) offers Horseback Riding as a daily free-choice elective.

HORSE CARE
If you'd like to spend more time at the Equestrian Center and assist Cayuga's stable staff in caring for the horses and the animals at our petting zoo, we have good news for you - Cayuga's Junior Stable Staff Program! This program is most popular with our horse enthusiasts. Under the direction of the Horsemanship Instructors, you'll assist with grooming, tacking, watering, feeding, walking-out the horses after a lesson, cleaning-up, and some mucking-out (if you want to). If you'd like, you can also care for our animals at the Petting Zoo. Our goats, sheep, calf and miniature horse are very friendly and enjoy going for walks! Interested campers simply sign-up for the Junior Stable Staff Program at camp.

STAFF
The Horseback Riding Program is headed-up by our Horsemanship Director who has experience managing an Equestrian Program; supervising staff; instructing children; and caring for horses. The Horsemanship Director is CHA certified (or holds equivalent documentation). Cayuga's Horsemanship Staff is comprised of 8 instructors who have certification in equine studies and/or experience in horseback riding instruction. There's always a staff member present at the Equestrian Center who holds current certification in first-aid and CPR.

EQUESTRIAN CENTER
The Equestrian Center includes 25 horses, a barn, a tack building, 2 instructional riding rings, a variety of jumps, wooded pastures, miles of scenic trails on the camp property, and a Petting Zoo for bunnies, goats, sheep, a calf and miniature horse. All riders are provided with certified helmets and the tack is maintained in excellent condition

HORSE SHOWS
Each summer we schedule 4 Horse Shows: 2 are "Visiting Day" Horse Shows and the other 2 are "Intercamp" Horse Shows that take place at nearby camps. There are no "try-outs" for Cayuga's Intercamp Horse Show Team. All campers are eligible to ride in our Horse Shows

EVENING TRAIL RIDES HORSEBACK OVERNIGHTS
Horseback Overnights are scheduled about once a week. The fun starts off with an Evening Trail Ride after dinner. Upon arrival at the overnight site, you'll help set-up the campsite, care for your horse (walk-out, feed, etc.), and when the sun goes down, you can grill some burgers/hot dogs for a late-night snack. You'll camp-out under the stars at the overnight site, wake-up early the following morning, and ride back to the Equestrian Center. You'll be back with your cabin group in time for breakfast. Horseback Overnights are a lot of fun!

SAFETY
Camp Cayuga is a proud member of the Certified Horsemanship Association (CHA) and meets the standards and follows the guidelines set forth by the CHA, as well as the American Camping Association (ACA). Our commitment to safety is evident in the selection of our horsemanship staff, the format of our riding lessons, the condition of our facilities, and the quality of our tack and equipment!

HORSEBACK RIDING IS FUN!
With all these exciting features of Cayuga's Equestrian Program, it's no surprise that Horseback Riding is one of our most popular activities! So kids – saddle up, grab hold.


ATHLETICS
Camp Cayuga's Athletic Program is noncompetitive in nature and philosophy. We stress self-improvement with emphasis on instruction rather than competition.

INDIVIDUAL & TEAM SPORTS
Athletics is a big part of the activity program for many campers. We offer practically every individual and team sport imaginable. Our most popular land sports are listed below:

| | | |
| --- | --- | --- |
| * PAINTBALL | * WRESTLING | * FLAG FOOTBALL |
| * TENNIS (USTA) | * LACROSSE | * IN-LINE SKATING |
| * SKATEBOARDING | * DODGEBALL | * TOUCH FOOTBALL |
| * BASKETBALL | * SOFTBALL | * SWIMMING |
| * GYMNASTICS | * BASEBALL | * FLOOR HOCKEY |
| * TUMBLING | * JUDO | * ROLLER HOCKEY |
| * VOLLEYBALL | * KARATE | * FIELD HOCKEY |
| * RIFLERY (NRA) | * ARCHERY | * ULTIMATE FRISBEE |
| * BADMINTON | * GA GA | * WEIGHT TRAINING |
| * EXTREME SPORT JUMPING | * NEWCOMBE | * EXERCISE & FITNESS |
| * TETHERBALL | * SOCCER | * CHEERLEADING |
| * T-BALL | * GOLF | * PING PONG |
| * TRACK | * RUGBY | * KICKBALL |
| * FRISBEE GOLF | * JOGGING | * BUBBLE SOCCER |

STAFF
The Athletic Department is headed-up by our Athletic Director who is a professional educator and coach. Activity instruction is monitored by the Athletic Director, and provided by our Activity Specialists who are college-enrolled students, graduate students, and young certified teachers. Instructors have documented experience in their specialty area, as a competitor/player as well as a teacher/coach and hold current certification in the activity for which they've been hired.
INSTRUCTION
Quality instruction is geared to the camper's individual skill level. Instruction is patient and thorough with due regard for both safety and enjoyment. Generally speaking, instruction takes place during the first-half each activity period. The remaining portion is reserved for recreational play-time. Certain activity periods are scheduled as "practice time" for Intercamp Tournament Teams.
VOLUNTARY COMPETITION
Although Cayuga is noncompetitive in nature, healthy competition does find its way into the activity program on a voluntary basis through our Intercamp Tournament Program. Campers who enjoy competition are encouraged to sign-up for the Intercamp Team of their choice. Campers can join as many Intercamp Teams as they'd like. There are no team "try-outs" and all campers can participate in the tournaments, regardless of their athletic ability. Emphasis is placed on sportsmanship and having fun, rather than winning. (Despite Cayuga's tournament record which includes more wins than losses!) The Intercamp Tournament Program is voluntary. If you don't want to join a team and compete, you don't have to.
INTERCAMP TOURNAMENTS
Each summer we schedule over 120 tournaments with neighboring camps in Wayne County. Approximately 50% of the tournaments are scheduled as "away games", that provide our campers an opportunity to travel to other camps. To join a team and compete in your favorite sport, all you need to do is sign-up for the team. Intercamp Tournaments are a great way to add a little camp spirit to your summer and widen your travels as well.
TOURNAMENT TEAMS
Cayuga offers an Intercamp Tournament Team for every land and water sport. Teams are usually organized by camper grade and gender. Some teams are coed. The Intercamp Tournament Program includes the following teams:
| | |
| --- | --- |
| * PAINTBALL TEAM | * WRESTLING TEAM |
| * DODGEBALL TEAM | * BASKETBALL TEAM |
| * VOLLEYBALL TEAM | * NEWCOMB TEAM |
| * BADMINTON TEAM | * PING PONG TEAM |
| * SOFTBALL TEAM | * BASEBALL TEAM |
| * KICKBALL TEAM | * ARCHERY TEAM |
| * TRACK TEAM | * TENNIS TEAM |
| * SOCCER TEAM | * RIFLERY TEAM |
| * ROLLER HOCKEY TEAM | * FIELD HOCKEY TEAM |
| * FLAG FOOTBALL TEAM | * GYMNASTICS TEAM |
| * SAILING TEAM | * SWIM TEAM |
| * FLYING TRAPEZE TEAM | * HORSE SHOW TEAM |
HIGH FLYING TRAPEZE
It's a thrill of a lifetime to fly through the air on the flying trapeze! Cayuga's Flying Trapeze Program operates on a daily basis and all campers can participate. The Flying Trapeze & its related activities (circus arts, trapeze performances, etc.) bring a high level of excitement to your summer camp experience. This is an awesome activity - it's exciting, thrilling, and unforgettable!

INSTRUCTION
The Flying Trapeze Activity is a progressive program that's categorized into achievement levels. So, the quicker you learn the skills at each level, the faster you'll move ahead in the program. Instruction is given on a one-on-one basis and is geared to your physical abilities. You'll learn to deal with both physical and mental challenges, and at the same time, enjoy the excitement of "flying through the air". In a matter of days, you can be performing dazzling routines with flawless flying flare! If you're interested in trapeze competition, you can join the Flying Trapeze Team and compete against other campers from nearby camps. Cayuga's Trapeze Team also performs in the Annual Flying Trapeze Show in front of the entire camp population. It's "the greatest show" in camp!

EXERCISES
We have listed below the High Flying Trapeze skill exercises in the order you'll learn them:
* Climbing the ladder, stepping out and standing on the pedestal, grasping the bar, leaving the pedestal, swinging, releasing the bar, landing in the net, and getting out of the net.
* Practicing knee hangs, bird's nests, and splits on the "low" trapeze and afterwards doing the same on the "high" flying trapeze.
* Leaving the pedestal without assistance, pumping while swinging & maintaining proper form, and returning to the pedestal.
* Flying to the catcher in a knee hang, bird's nest, and/or split position, releasing the fly bar without being prompted, and grabbing hold of the catcher.
* Flying to the catcher using a variety of other techniques, such as "penny drop", inverted leg, "over the bar", and "fly aways".
* Learning how to be a catcher.

STAFF
The Flying Trapeze Program is headed-up by Cayuga's Flying Trapeze Director who is a qualified professional and trained circus performer with experience in operating an instructional trapeze program for children. The Trapeze Staff is comprised of 5 instructors who provide instruction under the guidance of the Flying Trapeze Director. The instructors are assigned to 5 positions: The Low Practice Bar Spotter, The Ladder Spotter, The Pedestal Spotter, The Pedestal Assistant, and The Ground Spotter. All trapeze instructors are trained, evaluated, and qualified by our Flying Trapeze Director.

FACILITIES & SAFETY
In addition to the "high" flying trapeze rig, the Flying Trapeze Program utilizes 2 single rigs. One single rig has a "low" trapeze bar which is ideal for first-timers. The other single rig is utilized primarily for circus acts including the Spanish Web, Silk, and Lyras. Each camper wears a harness which is attached to a safety line held by an instructor on the ground. Safety nets, safety lines, harnesses, trained spotters, and experienced instructors provide the safe nurturing environment needed to promote self-confidence and self-esteem.