Blog
POSITIONS AVAILABLE
MEDICAL STAFF POSITIONS (click here)
* Registered Nurse (RN)
* Nurse Practitioner (NP)
* Certified Nurse Practitioner (CNP)
* Licensed Practical Nurse (LPN)
* Physician Assistant (PA)
* Physicians (MD, DO)
* EMTs
* Health Care Assistants (Medical & Nursing School Students, etc)

FOOD SERVICE POSITIONS
* Food Service Manager (click here)
* Head Chef
* Kitchen Staff Manager
* Dining Hall Steward
* First Cooks
* Second Cooks
* Salad Bar In-Charge
* Pot Washers
* Dishwashers

SUPPORT STAFF POSITIONS
* Maintenance Supervisor
* Landscaping, Painting, Lawn Care, etc.
* Transportation Director
* Vehicle Drivers with CDL
* Bus Drivers with CDL
* Van Drivers (age 21+)

ADMINISTRATIVE POSITIONS
* Computer Software Specialist
* Office Manager
* Administrative Assistants
* Office Receptionist
* Clerical Duties
* Computer Data Entry

SENIOR STAFF MEMBERS
Cayuga's Senior Staff team is comprised of adults who, during the off-season, are typically professional educators, guidance counselors, administrators, and/or coaches. These individuals are our camp leaders who set the "tone" for Cayuga's down-to-earth family atmosphere. Each Senior Staff member is responsible for operating and/or supervising one or more of the key areas/departments of Cayuga's operation

SENIOR STAFF SUPERVISORY POSITIONS
Each season Camp Cayuga hires approximately 40 Senior Staff members to assume supervisory responsibilities for the following positions:
* Academic Tutoring Supervisor
* Adventure & Wilderness Director (click here)
* Archery Activity Supervisor
* Athletic Director
* ATV Quads Activity Supervisor
* Bungee Trampoline Activity Supervisor (click here)
* Circus Director (click here)
* Creative Arts Director (click here)
* Division Directors
* Elective Program Director (click here)
* Elective Program Assistant Director
* Evening Program Director (click here)
* Flying Trapeze Director (click here)
* Game Room Supervisor
* Horsemanship Director (click here)
* Intercamp Tournaments Director (click here)
* Lake Activities Director (click here)
* Performing Arts Director (click here)
* Paintball Activity Supervisor (click here)
* Pool Director (click here)
* Riflery Activity Supervisor
* Skate Park Activity Supervisor (click here)
* Special Events Director (click here)
* Trips Director (click here)
* USTA Tennis Pro (click here)

COUNSELOR POSITIONS
Cayuga's program offers instruction in over 60 fun-filled activities every day! Campers are provided the opportunity to explore a wide range of land & water sports, as well as creative arts, performing arts and non-competitive programs. In order to operate our dynamic program, we hire "Multi-Talented" counselors who are qualified to teach more than one activity. This allows for variety in the instructor's daily schedule. Each season we hire over 100 cabin counselors who assume instructor positions for the activities listed below. Applicants may be hired to instruct up to 5 different activities! To see photos of instruction, click here.

LAND SPORTS PROGRAM (click here)
* Tennis (click here)
* Paintball (click here)
* Trampoline Bungee Jumping (click here)
* Skateboarding (click here))
* In-Line Skating
* Roller Skating
* Gymnastics
* Tumbling
* Karate
* Judo
* Basketball
* Soccer
* Softball
* Baseball
* Kickball
* T-Ball
* Exercise & Fitness
* Zumba Fitness
* Weight Training
* Boxing
* Roller Hockey
* Floor Hockey
* Field Hockey
* Archery
* Riflery
* Golf (click here)
* GaGa
* Badminton
* Cricket
* Wrestling
* Cheerleading
* Flag Football
* Touch Football
* Volleyball
* Newcomb
* Lacrosse
* Dodgeball
* Jogging
* Track Meets
* Ultimate Frisbee
* Tetherball
* Ping Pong
* Rugby
* Frisbee Golf
* Intercamp Tournaments (click here)

CIRCUS ARTS PROGRAM (click here)
* Diabolo
* Devil Sticks
* Plate Spinning
* Magic Tricks
* Juggling
* Clowning
* Stilt Walking
* Acrobatics & Tumbling
* Rolling Globe
* Unicycling

PERFORMING ARTS PROGRAM (click here)
* Directing Plays
* Acting
* Set Design
* Guitar
* Keyboards
* Drums
* Ballet
* Jazz Dance
* Tap Dance
* Costuming
* Set Production
* Improvisation
* Choreography
* Social Dance
* Modern Dance
* Belly Dancing
* Aerobics
* Yoga
* Lead Singing & Chorus

MEDIA ARTS PROGRAM (click here)
* Radio DJ Broadcasting
* Video Camera Filming
* Digital Photography
* Video Editing
* Camp Newspaper
* Video Editing Room

OTHER PROGRAMS
* Academic Tutor
* Cooking & Baking
* Chess & Board Games
* Student Nurse Assistants
* Video Game Room Supervisor

INSTRUCTOR WORKSHOPS
Some staff members have improved their ability as an instructor by attending a workshop prior to staff orientation. Some workshops offer certifications as well. If there's a workshop in your local area that you'd be interested in attending, let us know. If we approve your workshop attendance prior to you enrolling in the workshop, we'll gladly reimburse you for one-half the cost of the workshop if: 1) You successfully complete the workshop and obtain certification as a result of the workshop, and 2) You successfully complete your summer employment contract from start date to end date. Most workshops are typically sponsored by the American Red Cross. You can contact your local American Red Cross Chapter for more details.

HISTORY OF CAMP CAYUGA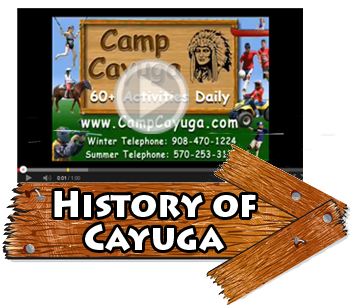 The word "CAYUGA" was selected as the name for our camp because a Native American group known as the Cayuga Indian Tribe had occupied this region, which had been chosen for its rich wildlife and natural beauty. Today, the area still remains rich in wild life and largely retains the natural beauty and charm admired by the Cayuga Indians over 250 years ago.

Camp Cayuga was originally founded by Fred Williams and his wife who owned and directed Camp Cayuga. During these earlier years, Cayuga accommodated 100 boys & 100 girls and encompassed 150 acres of evergreen forest land. Fred Williams built some of the buildings and facilities we still utilize today!

Mike and Arline Buynak purchased the camp from Fred Williams, and over the years, together with their sons developed Cayuga into what is now a Premier Summer Camp encompassing over 350 acres of comprehensive facilities and expansive fields. For over 40 years Mike and Arline had dedicated their careers to Camp Cayuga. Individual attention, concern for each youngster, and a special love of children had characterized their direction from the very beginning. In 1983 Mike and Arline turned over the full-time directorship of Cayuga to their son, Brian.

The tradition of caring for the needs of each and every camper has continued with the second generation of the Buynak Family. We feel a very strong obligation to our youngsters and to you, their parents. We stand ready to do all we can to insure your child's happiness. This includes catering to any special request or need that you or your child may have which will make your camper's summer at Camp Cayuga a more enjoyable and memorable experience.
ALUMNI BULLETIN BOARD
Wayne Falk ('75 to '76 Cayuga Camper) - Wayne, from Las Vegas, NV, sent an email to say; "I have GREAT memories of my summer's at Cayuga! I had some GREAT times and would love to catch up with old friends. Where's Scotty Getz & Larry P?" This email address is being protected from spambots. You need JavaScript enabled to view it.

Lance Margolin ('66 to '70 Cayuga Camper) - Lance sent us an email from Syosset, NY to say; "I am having a senior moment and am forgetting who was in my bunk. Anyone remember David Towne? I do remember some wonderful summers at Cayuga, but the details are fuzzy. Any help filling in the missing information is appreciated and no I'm not senile, I'm just over 50." This email address is being protected from spambots. You need JavaScript enabled to view it.

Kelly Walsh ('81 to '83 Cayuga Camper) - Kelly, from NC, writes, "I have great memories of Camp Cayuga. As my own kids headed out to various camps this summer, I couldn't help but remember the wonderful people, cool mountain air & great times we had at Cayuga." This email address is being protected from spambots. You need JavaScript enabled to view it.

Alan Levine ('65 to '66 Cayuga Camper) - Alan from Newnan, GA writes, "PLEASE HELP!!! Might anyone have a copy of the 1965 or 1966 yearbook? My family somehow misplaced the copies and it would be amazing to find this. Any help or assistance would be greatly appreciated. Camp Cayuga was the best camp experience ever & the memories live on and on. Fondest regards the Levine kids. Alan Levine, June Levine, Neil Levine, Paula Levine & Laurette Levin. Cayuga Happy Happy Land." This email address is being protected from spambots. You need JavaScript enabled to view it.

Amy Driscoll ('66 to '67 Cayuga Camper) - Amy sent us an email from Belford, NJ to say; "I loved camp life! If anyone has any pictures from the time I was there I would love to see them." This email address is being protected from spambots. You need JavaScript enabled to view it.

Jen VanHorn Dorris ('91 Cayuga Staff) - Jen, from Sierra Vista, AZ, writes, "I had such great times during the summer of '91 on the teen campus. I can't recall the cabin number but I do remember Karee as being my co-counselor in our cabin. Some other counselors I remember are Danielle Shullaw, Chris Shulman, Neil (UK), Feasty (UK) and the rest of the UK crew! My apologies for the spelling of your names." This email address is being protected from spambots. You need JavaScript enabled to view it.

Zack Freeman ('99 Cayuga Camper) - Zack sent us an email from Great neck, NY to say; "I am looking for a girl named Ariona. We were good friends after camp but slowly lost touch. I remember she lived in New York and went to camp with me in either '98 or '99. Any information would be appreciated!" This email address is being protected from spambots. You need JavaScript enabled to view it.

Justin Collins ('80's - '90's Cayuga Camper) - Justin sent us an email from Hartsdale, NY to say; "I have awesome memories from my time at Cayuga. I am glad to see Camp Cayuga still rocking and rolling. I am looking to send my son in '14 and can't wait. Any friends of mine please feel free to drop me a message." This email address is being protected from spambots. You need JavaScript enabled to view it.

Anthony Fletcher ('92 to '94 Cayuga Camper) – Anthony from Bridgewater, NJ writes, "Camp was one of the most amazing memories from my childhood. I recently found an old camp calendar that I was on the front cover of. I looked through it and noticed the smile that I had. That smile was one of elation & happiness. I want to say thank you for making me smile even to this day. I also wanted to say hello to everyone at Cayuga. I was Camper of the Year in '92 I believe & had just come from Korea. Thank you for making me smile!" This email address is being protected from spambots. You need JavaScript enabled to view it.

Robyn Zisko ('87 to '89 Cayuga Camper) – Robyn sent us an email from San Diego, CA to say, "Hi to all my old friends Samantha, Andy Cocovinis (?), Mike & Jesse. I have some old pictures I want to share with you if I could only find you all. Email me! PS: I'm the curly blonde 8 year old from the low G Bunks." This email address is being protected from spambots. You need JavaScript enabled to view it.

Stephen Viola ('94 to '99 Cayuga Camper) sent us a "Hello & how are you. Stephen writes "It would be awesome to talk to anyone from those years, please drop me an email." This email address is being protected from spambots. You need JavaScript enabled to view it. Jennifer Cook (80's Cayuga Camper) – Jennifer sent us an email from Lake Hopatcong, NJ to say; "I am interested in finding friends I went to camp with." Feel free to email me. This email address is being protected from spambots. You need JavaScript enabled to view it.

Sebastian Marechal ('88 to '90 Cayuga Staff) – Sebastian, from Valkenswaard, The Netherlands, writes, "It's a strange thing; every summer I think back on my time at Camp Cayuga. I had a great, great time! Even after all these years it's still as if I was there yesterday. Thanks to Brian for a great time at camp." This email address is being protected from spambots. You need JavaScript enabled to view it.

Paul Richmond ('99 Cayuga Staff) – Paul sent us an email from New Waltham, Grimsby, UK to say, "Camp Cayuga was my first stepping stone in life moving away from my family & friends. I was an instructor at camp when I was 18 years old. I then went on to coach & travel the world at the highest level. Camp Cayuga provided me with the confidence I needed to achieve this & I would like to thank everyone involved at camp. It has taken me 13 years to post this but I will never forget Camp Cayuga." This email address is being protected from spambots. You need JavaScript enabled to view it.

Billy Thigpen ('98 Cayuga Camper) – Billy, from Coaldale, PA writes, "I haven't thought about Cayuga in 15 years. However, I am now flooded with memories. Such as, my cabin, B-10 & I won a talent show performing "Barbie Girl". It was the single most excellent memory I have from my time at camp. Thank you Camp Cayuga for the memories!!!" This email address is being protected from spambots. You need JavaScript enabled to view it.

Janet Duncan Mann ('88 Cayuga Staff) – Janet, from Newcastle, England sent a quick hello. She also notified us that a good friend of hers is looking into sending her daughter to Cayuga this summer. This email address is being protected from spambots. You need JavaScript enabled to view it.

Josh Bernstein ('84 to '89 Cayuga camper) – Josh emailed us from Gilbert, Arizona to say "Wow! I can't believe I found this forum. For anyone who remembers me I started in cabin B-2 and went all the way up to cabin B-20 something, I think. Anyway, I remember all the amazing summers spent at Camp Cayuga! I am divorced & have a beautiful 5 year old boy! I would love to hear from anyone who attended & remembers me! Talk about a "trip down memory lane"! Hope all are well & if any of you happen to live in the Phoenix area, let's grab a beer & reminisce." This email address is being protected from spambots. You need JavaScript enabled to view it.

Craig Vinson ('82 Cayuga Staff) – Craig sent us an email from Hugo, Minnesota to say "To Sharon & Lori – My sincerest apologies. This email address is being protected from spambots. You need JavaScript enabled to view it.

Geraint Davies Welsh ('89 Cayuga Staff) – Geraint wrote to say, "Hello Brian, I worked for you in 1989. I just wanted to thank you for a brilliant experience. I first started my many years of travelling at Cayuga, and I must say it opened my eyes to the world! It was a great experience meeting people from around the world and I thank you for it. This email address is being protected from spambots. You need JavaScript enabled to view it.

Jeffrey Anderson ('91 to '92 Cayuga Staff) – Jeffrey sent us an email from Cincinnati, Ohio to say, "Camp Cayuga was one of the best experiences of my life. I worked for two summers and to this day I tell people it was a pivotal time in my life. I have the best memories there and working at Camp Cayuga really changed my life. I will NEVER forget it. Some day I would like to visit the camp and remind myself of my days at Camp Cayuga. I really wish I could get in contact with my friends or even some former campers." This email address is being protected from spambots. You need JavaScript enabled to view it.

H.T. Fownes ('93 Cayuga Staff) – H.T. emailed us from Altoona, PA to say, "I had a great time catching up with some of the old gang thanks to this message board! I recently changed my email address to This email address is being protected from spambots. You need JavaScript enabled to view it.. Always looking forward to hearing from any of the "93" crew!"

Julie Baker ('84 to '86 Cayuga camper) – Julie, from Fredericksburg, VA writes, "Hope ya'll are still enjoying life. I found some old pics of Colby Jones & Sari Vernon recently. We knew hot to have a good time! I'm still trying to explain us to my son." This email address is being protected from spambots. You need JavaScript enabled to view it.

Anatoly Chuchkov ('07 Cayuga Staff) – Sent us a quick email to say hello. Thank you for all the great meals in 2007. This email address is being protected from spambots. You need JavaScript enabled to view it.

Robin Tauber ('74-'75 Cayuga camper) – Robin, from East Brunswick, NJ, wrote "I had the best summers at Cayuga and this summer my children will be attending Cayuga. I can't wait for Visiting Day! Definitely looking to get back in touch with campers from "74-'75." This email address is being protected from spambots. You need JavaScript enabled to view it.

Pat Martin ('91 Cayuga Staff) – Pat writes, "Many great memories from that summer & the wonderful friends made. I am still in regular contact with Ken Noah, Vince Balas, Mariann Saas & Melissa Shea. I would love to hear from any staff (or my kids!) from that summer. Scott Faber & Bernie are you out there?" This email address is being protected from spambots. You need JavaScript enabled to view it. M

ichael Henwick ('96 Cayuga Staff) – Wrote, "Could anyone put me in touch with either Cathy Rogers or Brent Jones? Both were staff members in 96 & I have lost contact with them." This email address is being protected from spambots. You need JavaScript enabled to view it.

Renay (Packin) Harris ('65 to '67 Cayuga camper) – Renay, from Leonardo, NJ, recently wrote "Just a note to let everyone know, this camp is where I spent the happiest time of my life. If you get the chance, GO THERE!" This email address is being protected from spambots. You need JavaScript enabled to view it.

Patti (Bell) Jensen ('93 to '94 Cayuga Staff) – Patti emailed us from Brookhaven, PA to say "Hi Brian and Trish, I always think of you guys around the end of the school year. I have water-colored memories of the place and the great people I met during those years. I especially loved your parents, hope all is well. Love Patti J." This email address is being protected from spambots. You need JavaScript enabled to view it.

Joan (Pawlett) Cutting ('91 Cayuga Nurse) – Joan writes, "I was your camp nurse in 1991 and truly enjoyed the camp and the campers. I also loved my the Teen Campus Directors, Mike & Arline Buynak." This email address is being protected from spambots. You need JavaScript enabled to view it.

Ted Pivovarnick ('70's Cayuga camper) – Recently sent us a short email to say hello. Give our regards to your mom (camp nurse), your dad (athletic director), your sister (waterfront director), and your brothers (camp staff). This email address is being protected from spambots. You need JavaScript enabled to view it.

Greg David ('84 to '87 Cayuga camper) – Wrote, "My first summer at Cayuga was in 1984 (hard to believe that is now 15 years ago!!), and an absolutely PERFECT summer was capped off with a Camper of the Year award. I was in B9, and I was hooked. I came back the next 3 summers, finishing off in 1987 on Senior Side (B22). Great memories… AND, great friends too! A handful of your Senior-Siders from 1986 & 1987 planned a reunion last weekend… what a blast to see Gina Durante, Sari Vernon, Krissy Noviello, Robyn Schilling, Greg Barkan, Kurt Eggering, Dave Reale (he hosted), Barbra Berwald, Martin Deegan, Joselyn Fine, Mike Kervel, Debbie Fishman, Mindy Hirshburg & Sunny Singer. This email address is being protected from spambots. You need JavaScript enabled to view it.

Mike Asche ('60's Cayuga camper) – Mike, from Canton, GA, recently wrote "Great years with Fred Williams, Uncle Macum, Dave and Susan Neufeldt, Al (Ticki) Albert, Dave Bromberg, Paula Greif, Laurie Lewitt, Andy Kent, Jeff Check, Jeff Schwartz, Diane Silverman, Mike Cusamano, Andy Appel, Zack Kass, etc. Green are the hills, Camp Cayuga Happy Land I'm gonna buy a ticket if I can. This email address is being protected from spambots. You need JavaScript enabled to view it.

Roger Reid ('59 Cayuga camper '63 to '64 Cayuga Staff) – Roger emailed us from Apopka, FL to say "I was a camper in 1959 (nicknamed "Junior" because I was so small) and later a Junior Counselor in the Senior Camp, when Fred Williams still owned Camp Cayuga. I have lots of fond memories of "the senior girls", "the canteen", Camp Olympics, Bucky Hatchett, Harry Lee, Fuzzy, and so many others." This email address is being protected from spambots. You need JavaScript enabled to view it.

Franny Jones ('06 to '08 Cayuga camper ') – Franny writes, "I'm trying to find Robyn and Katie, I don't know your emails because I lost my phone, trying to rebuild contacts." This email address is being protected from spambots. You need JavaScript enabled to view it.

Jonathan Kaplan ('90 to '93 Cayuga camper) – Jonathan, from St. Petersburg, FL. writes, "Man do I miss those good old days. My cabin always won the Scavenger Hunt and had a night on the town at Two Guys Pizza. I'd love to get in touch with Scott Heffes, Jordan Barth or Joshua Blitz". This email address is being protected from spambots. You need JavaScript enabled to view it..

Marla (Cornejo) Chait ('70 to '73 Cayuga camper) - Marla sent us an email from Forest Hills, New York to say "My summers at Cayuga were the best of my life. I not only carried away great memories, but a Gary Pivo "4 leaf clover find" in my wallet as well (until my purse was stolen last year… so much for good luck) LOL. Wanted to say hi to Bean, Evan, Randi, Laurie, Mike, Lisa, Charley, the Pivo's, Cymanksky's…too many to mention". This email address is being protected from spambots. You need JavaScript enabled to view it..

We also received a "Hello & How Are You" message from Ariel Offir ('08 Cayuga staff) from Miami, Florida at This email address is being protected from spambots. You need JavaScript enabled to view it. and Erin (Stevenson) O'Brien from East Jordan, Michigan at This email address is being protected from spambots. You need JavaScript enabled to view it..

Barbara (Kolodey) Margolies ('71 to '74 camper) – Barbara writes, "I'm looking to get in touch with Laurie Rader, Randi Kaminsky, Barry Lowell, Gary Pito, etc. I would love to hear from one and all. What wonderful memories I have of camp that I would like to laugh about and reconnect with those that helped shape them". This email address is being protected from spambots. You need JavaScript enabled to view it.

Anthony Fletcher ('90 to '92 Cayuga camper) – Anthony emailed us from Bridgewater, NJ to say "I had so much fun at camp and have many great memories. I looked at the photos and reminisced about how fun the Olympics were, cheering until I lost my voice. I just want to say thank you to everyone for all the fun memories". This email address is being protected from spambots. You need JavaScript enabled to view it.

Chris Giles ('91 to '93 Cayuga staff) – Chris, from Essex, United Kingdom, recently wrote "Just wanted to say hello to all staff and campers who shared the great Cayuga times. Would love to hear from Mary Cay". This email address is being protected from spambots. You need JavaScript enabled to view it.

We also recently received a "Hello & How Are You" messages from the following Cayuga alumni: Ariann Chelli ('90's Cayuga camper) from Las Vegas, Nevada at This email address is being protected from spambots. You need JavaScript enabled to view it.; Frank Chelli (90's Cayuga camper) from Las Vegas, Nevada at This email address is being protected from spambots. You need JavaScript enabled to view it. and Janna Orons (Cayuga camper) from Wexford, Pennsylvania at This email address is being protected from spambots. You need JavaScript enabled to view it..

Renee (Marchak) Abstender ('87 Cayuga camper) – Renee emailed us from Brewerton, New York to say "I'm searching for Ronda Tulip from Cabin G-23 during the summer of '87. If you're out there I'd love to here from you, as well as anyone else from G-23. I only spent one summer at Cayuga but my cabin made me feel as if I'd been there forever! I've never forgotten you… Ronda, Kirsten, Rita, Jen, Sheryl, Amy, Liz (counselor), Melissa, etc. Great memories with some great gals!! I'd love to hear from anyone that remembers me. This email address is being protected from spambots. You need JavaScript enabled to view it.

Nicole Kryszuk ('80's Cayuga camper) – Nicole from Rye, New York writes, "Camp Cayuga brings back some of my favorite childhood memories! I live in Westchester now, teach 3rd grade, and finished my Masters degree in Education a few years ago. I would like to say hello to a few old friends, Nikki Berwald, Suzy Popkin, Jenna Flemming, Amy Vent, Stacey from New City(?), and Allison from New Jersey. This email address is being protected from spambots. You need JavaScript enabled to view it.

Diana Freeman ('99 Cayuga camper) – Diana recently emailed us from Cambridge, Massachusetts. She writes "I was in Cabin G-21 during the summer of '99. I just found my Cayuga diary, which was hilarious to read. Emily, Trevor and Eric, if you happen to come across this message, contact me! I'd love to hear what you've been up to the past 10 years! This email address is being protected from spambots. You need JavaScript enabled to view it.

We also recently received a warm "Hello and How Are You" message from the following Cayuga alumni: Chelsey Ellington ('04 Cayuga camper) – from Culpeper, Virginia at This email address is being protected from spambots. You need JavaScript enabled to view it. and Ariel Ofir ('08 Cayuga staff) – from Miami, Florida at This email address is being protected from spambots. You need JavaScript enabled to view it..

Dave Kelly ('01to '03 Cayuga staff) – Dave emailed us from Bozeman, Montana to say "It's so amazing to think back to my summers spent at Cayuga. If anyone is looking for a great place to go for a ski vacation, drop me a line". This email address is being protected from spambots. You need JavaScript enabled to view it.

Greg Hoyt ('83 to '84 Cayuga staff) – We received an email from Greg from Saltillo, Mississippi, who writes "It's great to see camp is still going strong at Cayuga! Seeing the photos brings back all the great memories from my two summers there". This email address is being protected from spambots. You need JavaScript enabled to view it.

Joanne (Gebhardt) Repasky ('88 Cayuga staff) – Joanne, from Barrington, New Jersey, writes "Hello to everyone. I'm now an official grandmother, my daughter Nicole who attended camp at age six in 1988 is now a mom. My other daughter Carol attended camp at age four and is now married and the proud mom of five dogs. I hope everyone is doing well and I'd love to hear from any of my fellow staff members from the summer of 1988". This email address is being protected from spambots. You need JavaScript enabled to view it.

Chris Giles ('91 to '93 Cayuga staff) – Chris, all the way from Essex, United Kingdom, emailed us to say "I had such a great time at Cayuga. I vividly remember Feasty, Ken Noah and Greg the Chef (with his "We got a birthday today" announcements). I'd like to hear from any of the staff from my time at Cayuga". This email address is being protected from spambots. You need JavaScript enabled to view it.

Laurie (Karpowich) Donitz (late '70's to early '80's Cayuga camper) - Laurie wrote to us from New York, New York to say "I try to explain to my husband the experiences I had at Camp Cayuga, but as a non-camper, he just doesn't get it. I still miss those days and now, at 43, I still say nothing will ever beat those times at Cayuga… sweet, fun and kind. I look forward to sending my children to Camp Cayuga when they're a bit older". This email address is being protected from spambots. You need JavaScript enabled to view it.

Bruce Miller ('75 Cayuga staff) – Bruce emailed us from Dimondale, Michigan to say, "I was recently reminded of my summer as a camp counselor 33 years ago. I remember taking the kids to Cape Cod on bikes and skiing on Lake Wallenpaupack, what a wonderful summer!" This email address is being protected from spambots. You need JavaScript enabled to view it.

James Willis ('02 Cayuga staff) – James from England writes, "Hope everyone is good and getting what they want out of life. I can't believe it's been SIX YEARS, time has gone by so quickly. Not a day has gone by when I haven't thought about my amazing days at camp, the most amazing people I met and the friends I made. If anyone is in England and near the south, drop me a line". This email address is being protected from spambots. You need JavaScript enabled to view it.

H.T. Fownes ('93 Cayuga staff) – H.T. lives in Altoona, Pennsylvania and emailed us "to send a shout out to the 1993 alumni. It would be great to hear from anyone that wants to drop me an email". This email address is being protected from spambots. You need JavaScript enabled to view it.

Some other Alumni that dropped us a quick "Hello and how are you" include: Debbie (Kritzman) Leibert ('88 to '91 Cayuga camper) from West Hartford, Connecticut at This email address is being protected from spambots. You need JavaScript enabled to view it., Marissa Sweeney ('96 to '97 Cayuga camper) from Philadelphia, Pennsylvania at This email address is being protected from spambots. You need JavaScript enabled to view it., Harold "John" Voletsky ('59 to '66 Cayuga camper) from Boynton Beach, Florida at This email address is being protected from spambots. You need JavaScript enabled to view it., and Adam Ricciardi ('93 to '97 Cayuga camper) from Newark, Delaware at This email address is being protected from spambots. You need JavaScript enabled to view it.

Robin Halperin ('70's Cayuga camper) – Robin emailed us from Mount Kisco, New York to say, "Hi everyone. Both of my kids attended Camp Cayuga, my daughter is still a camper and my son will be a counselor this summer (2008). I'd love to hear from Robin Pivo and Phyliss Kopman if anyone has their info". This email address is being protected from spambots. You need JavaScript enabled to view it.

Alex Gardner ('00 to '03 Cayuga staff) – Alex writes the he and Sarah "just wanted to drop a note to say we're doing well and missed camp so much that we bought our own "cabin" in Pennsylvania. We were looking at 2004 Yearbook pictures on the website and was glad to see we made the show. They brought back some great memories. Thanks, Brian, for allowing us the opportunity to make a Cayuga memory that lasts a lifetime". This email address is being protected from spambots. You need JavaScript enabled to view it.

Terri Cahn ('73 to '76 camper and '05 Cayuga staff) – Terri emailed to say, "Lee Diamond, Beth Fleishman, Detra Sarris, Carol Decker and I had a reunion in Florida celebrating over 30 years of a Cayuga friendship. We laughed for 3 straight days and reminisced with old pictures and memories. If you want to reach any of us, you can email Lee in Vermont at This email address is being protected from spambots. You need JavaScript enabled to view it., Beth in New Jersey at This email address is being protected from spambots. You need JavaScript enabled to view it., Detra in Mississippi at This email address is being protected from spambots. You need JavaScript enabled to view it., Carol in New Hampshire at This email address is being protected from spambots. You need JavaScript enabled to view it. and Terri in Florida at This email address is being protected from spambots. You need JavaScript enabled to view it.

Benoit Panidis ('92 to '97 Cayuga staff) – Benoit from Bordeaux, France writes, "Camp Cayuga is still in my heart! I was the little French guy and it was a pleasure working with Mike and Brian. I hope to return to Cayuga one day to see everyone". This email address is being protected from spambots. You need JavaScript enabled to view it.

Mike Fikaris ('92 to '94 camper and '98 Cayuga staff) – Mike emailed us from New York, New York to say "I was asked recently what was the best job I ever had and I told the person it was being a counselor at Camp Cayuga! Just wanted to say Hi to anyone and everyone who still thinks about those years as much as I do. I would love to hear from Grant Freeman, Kerry Ronan, Jessica Vogel, Courtney, Steve, Paul and other kids from B-13 to B-22, as well as any of my kids from B-7!! This email address is being protected from spambots. You need JavaScript enabled to view it.

We recently received a few short "Hello & How Are You" messages from Cayuga alumni Cristina Hoffmann ('01 to '02 camper) - from Caracas, Venezuela at This email address is being protected from spambots. You need JavaScript enabled to view it. and Jamie Glassberg ('92 Cayuga camper) at This email address is being protected from spambots. You need JavaScript enabled to view it.

Dr. Gerald (Beanie) Metalsky ('68 to '76 Cayuga camper and staff) – Beanie would like to say "Hello" to all the campers and staff from the 60's and 70's. He's remembered as one of the nicest guys at camp and a fantastic drummer! He would love to hear from everyone. This email address is being protected from spambots. You need JavaScript enabled to view it.

Christine Casa ('84 to '87 Cayuga camper) – Christine emailed us to say "Hey, where are my girls at? We were on the Main campus in G-11 and G-12 (I think) and then one year on Teen campus before we scattered to the four winds like autumn leaves. Shout out to Taya, Joanne, Beth, Feyette, Deena and the rest of you, I remember you fondly." (Hey Christine, drop us your email address so everyone can keep in touch)

Malia (Cohen) Gordon ('70 to '74 Cayuga camper, '06 Cayuga staff) – Malia recently emailed us to say "Hi, I'm looking to reconnect with some of my old friends from Cayuga. If anyone remembers me, drop me an email." This email address is being protected from spambots. You need JavaScript enabled to view it.

Jill (Wolodarsky) Klinofsky ('72 to '74 Cayuga camper) – We received an email from Jill saying "Hi everyone! The summers I spent at Cayuga were two of the best. I'm looking to hear from any of the CIT's from the summer of '73; we had a blast! Hope to hear from you." (Hey Jill, drop us your email address so everyone can keep in touch)

We also received a "Hello & How Are You" messages from the following Cayuga alumni: Hallie Davis ('93 to '96 Cayuga camper), Anita (Friedman) Bousandina ('99 Cayuga camper), William Herling ('83 to '85 Cayuga camper) at This email address is being protected from spambots. You need JavaScript enabled to view it. and Candace Leonardo ('85 to '85 Cayuga camper) at This email address is being protected from spambots. You need JavaScript enabled to view it..

Nancy (Pivovarnick) Wiggins ('69 to '85 Cayuga camper and staff) – Nancy sends out a "Hello and how are you" to all Cayuga alumni everywhere. She would especially like to hear from Suzanne Ventura, Marianne Bartman and Mary Beth Robidoux. (Hey Nancy, drop us your email address so everyone can keep in touch)

Sarah Marshner and Jared Pulling ('92 Cayuga staff) – Sarah and Jared recently moved to Chattanooga, Tennessee and Sarah emailed us to say, "Hey everyone, it was great to see some familiar names on this page! Jared and I met at Cayuga in 1992 when we were both counselors. We were married three years later and just celebrated our 12th anniversary in August. We have two children, Abigail, 10, and Jacob, 8½. It would be great to hear from anyone who remembers us." This email address is being protected from spambots. You need JavaScript enabled to view it.

Leigh (Krueger) Annandale ('97 Cayuga staff) – Leigh emailed us from Auckland, New Zealand and wanted to say "Hello to everyone. I was the crazy South African who helped lead Britain to victory in the 1997 Cayuga Olympics! Camp was so much fun and I can't stop talking about it even after all these years. I would love to hear from anyone, especially Paul Anaki or anyone from the traveling van clan." This email address is being protected from spambots. You need JavaScript enabled to view it.

Brett Landy and Jordan Gluck ('99 to '05 Cayuga campers) – Brett and Jordan wrote to us from Armonk, New York to say "We miss Cayuga and have some great memories. Hopefully we can return as counselors in 2009!" (Hey guys, drop us your email address so everyone can keep in touch).

Steve Loveland ('96 Cayuga staff) – Steve is living in Elgin, Scotland and writes, "Hi to everyone who attended camp in the summer of 1996. My summer at Cayuga was a life changing experience, and I know I am not alone in this feeling. Captaining the Italian team to second place in the Cayuga Olympics is still my crowning achievement! Oh, the memories!" This email address is being protected from spambots. You need JavaScript enabled to view it.

Erica (Gallagher) Schoenberg ('87 to '93 Cayuga camper) – Erica, from Clarks Summit, Pennsylvania, writes, "Wow, reading all the messages brings back many great memories! I would like to say hi to everyone who was at Cayuga from 1987 to 1993. I recently got married, finished my doctorate in Audiology and opened up my own practice. If you remember me, feel free to drop me an email." This email address is being protected from spambots. You need JavaScript enabled to view it.

Bruce Kamin ('64 to '65 Cayuga camper) – Bruce lives in Gloucester, Massachusetts and emailed us to say "I still have fond memories of camp even after 43 years. I can still see the quad and cabins, the curved roof gym with the canteen in front, the softball field and the lake." This email address is being protected from spambots. You need JavaScript enabled to view it.

Amy Driscoll ('66 or '67 Cayuga camper) – Amy emailed us from Belford, New Jersey and writes, "The friends I made and the fun I had at camp will never be forgotten. It was my first summer away from home and the staff were all so terrific, my homesickness faded fast. I even had my first dance with a boy at the end of the summer, which for a 9 or 10 year-old was a big deal, at least back then." This email address is being protected from spambots. You need JavaScript enabled to view it.

Renee (Marchak) Abstender ('87 Cayuga camper) – Renee is a Contract Recruiter in Monroe, New York, has been married for eight years and has 3 boys (one is 7 and her twins are 4½). She writes, "I only attended camp for one summer in 1987, but it was one of the best summers I had growing up. I was in cabin G-26 (I think) with Sheryl L., Jen, Rhonda, Kirtsen, Rita and Melissa. I also remember great gals like Sunny Singer, Krissy Novac and Barbara Berwald and guys like Deegan, Willie Medina, Alex and Greg on the teen campus. I would love to hear from any alum from the summer of '87 who may remember me." This email address is being protected from spambots. You need JavaScript enabled to view it.

Noelle (O'Malley) Miller ('97 to '98 Cayuga staff) – Noelle emailed us from Virginia to say "I would love to hear from any of my former campers or any counselors/alumni from the summers of '97 or '98." This email address is being protected from spambots. You need JavaScript enabled to view it.

We also recently received a "Hello & How Are You" messages from the following Cayuga alumni: Jason Bailin ('83 to '88 Cayuga camper) – from Chicago, Illinois at This email address is being protected from spambots. You need JavaScript enabled to view it., Arthur Blumenthal ('58 to '60 Cayuga staff) – from Old Bethpage, New York at This email address is being protected from spambots. You need JavaScript enabled to view it., Harry Nowack ('82 to '83 Cayuga staff) – from Waterford, New York at This email address is being protected from spambots. You need JavaScript enabled to view it., Pablo Manso ('07 Cayuga camper) – from Madrid, Spain at This email address is being protected from spambots. You need JavaScript enabled to view it., Alex Wollman ('99 to '04 Cayuga camper) – from Stamford, Connecticut at This email address is being protected from spambots. You need JavaScript enabled to view it., Andi Manzo ('80's Cayuga camper) – from Las Vegas, Nevada at This email address is being protected from spambots. You need JavaScript enabled to view it., Frank Chelli ('95 to '00 Cayuga camper) – from Las Vegas, Nevada at This email address is being protected from spambots. You need JavaScript enabled to view it., Joel Dawes ('02 Cayuga staff) – from Balwyn, Australia at This email address is being protected from spambots. You need JavaScript enabled to view it., Mark Mittenthal ('60 to '66 Cayuga camper) – from Mequon, Wisconsin at This email address is being protected from spambots. You need JavaScript enabled to view it., Marla (Cornejo) Chait ('70 to '75 Cayuga camper) – from Forest Hills, New York at This email address is being protected from spambots. You need JavaScript enabled to view it.,; Dana Dieterich ('80's Cayuga staff) – from Waynesville, Ohio at This email address is being protected from spambots. You need JavaScript enabled to view it., and Chris Kluzek ('02 Cayuga staff) – from wherever he's at on his walkabout at This email address is being protected from spambots. You need JavaScript enabled to view it..

Matt Guy ('92 to '93 Cayuga camper) – Matt lives in Somerset, New Jersey and writes "This bulletin board is great. It brought back some great memories and names I have long tried to remember. Sara, Jessica, Stephen, Paul, Debbie, Mia and anyone else who finds their way to this site and remembers me, drop me an email." This email address is being protected from spambots. You need JavaScript enabled to view it.

Joanne Gebhardt ('88 Cayuga staff) – Joanne recently moved to Barrington, New Jersey and runs her own business selling dog supplies. She writes, "My daughters were campers in '88 while I worked at camp. Nicole just got married in August and Carol is engaged and getting married in May, my how time flies! I'm still in touch with several people I met at Cayuga 20 years ago, including Craig Hardie, who lives over in the UK. It's nice to know that if it weren't for Camp Cayuga, I might never have been able to experience the opportunity to meet so many wonderful people from all over the world." Joanne would love to hear from anyone who remembers her. This email address is being protected from spambots. You need JavaScript enabled to view it.

Michelle (Kolacskovics) Meyers ('80's Cayuga camper) – Michelle emailed us from Las Vegas, Nevada to say "Wow, I just took out pictures of Camp Cayuga and the memories came flowing back! Learning how to swim, archery, picking berries and the late-night movies on the tennis court. I went to Cayuga for five summers and loved every minute." This email address is being protected from spambots. You need JavaScript enabled to view it.

Jessica (Ham) McClave ('97 to '98 Cayuga staff) – We recently received an email from Jessica, who lives in Parker, Colorado. She writes "I love finding this board periodically and remembering such great times. I'd love to hear from any campers or counselors from 1997 or 1998, as well as my long, lost Ant." This email address is being protected from spambots. You need JavaScript enabled to view it.

Shira (Rumbolo) Newman ('82 Cayuga camper) – Shira from Lakewood, New Jersey writes "Wow, I can't believe I found this board! I was a camper in '82 and it was the best summer of my life! I met the greatest people there and have held the memories of that summer with me all these years. I was friends with Hetty, Peter Disanza, Darri Healy, Laura Schmidt, Amy Weinstein, Marrisa, Ron Pritchard, Nicky C. and so many other people. I'd love to hear from anyone who went to camp from 1981 to 1983 who may remember me." This email address is being protected from spambots. You need JavaScript enabled to view it.

Debbie Pianko ('86 to '90 Cayuga camper) - Debbie emailed us from Washington, DC. "Oh my gosh - has it really been 20 years??? I can't believe it. Just seeing the names on the message board brings back tons of memories (including my first kiss!) I'm living on Capitol Hill in Washington now - working as a technology consultant at the White House. I spend most of my free time doing competitive rowing (crew) and decorating my new condo." Drop Debbie a line at This email address is being protected from spambots. You need JavaScript enabled to view it..

Matthew Dodge ('03 to '06 Cayuga staff) - Matt writes to us from California, Pennsylvania "All the years I have been a part of Cayuga, there have been so many great memories and I will miss being a part of all of that. I would like to thank all the staff for everything they have given and would like to say hello to any staff or campers from my 4 years attending. I would like to hear from all of you." This email address is being protected from spambots. You need JavaScript enabled to view it.

Marty Keebler ('91 to '92 Cayuga counselor) - Marty writes to us from Kerrsey, Pennsylvania to say hello and that it was fun to see all the old names on the Cayuga Alumni Board. This email address is being protected from spambots. You need JavaScript enabled to view it.

Craig Gruen-Niemiec ('94 to '98 Cayuga camper) - Craig drops us a hello from Armonk, New York. He misses the Olympics and would love to hear from fellow campers to share memories of the best camp ever. This email address is being protected from spambots. You need JavaScript enabled to view it.

Toby (Engelman) Bloom ('73 to '74 Cayuga camper) – Toby lives in Merrick, New York and is hoping to hear from anyone who attended camp during her two years there and anyone who was in her bunk. This email address is being protected from spambots. You need JavaScript enabled to view it.

Steve Feldman ('70 to 76 Cayuga camper, '77 Cayuga staff) – Steve emailed us from Staten Island, New York and wanted to say hello to "all those who attended camp with me between 1970 and 1977, those friends I made, those whom I crossed paths with and who made my years at Cayuga most special and memorable. Sometimes I forget where I put my keys 10 minutes earlier, but the memories I hold from Cayuga never seem to be forgotten. The camp songs, the hand claps (I messed it up once and we ended up in the lake), Day's Bakery, Wayne County Fair, Pritchard's Farm, Tony Iuso, Mike, Wally and the flashlight, … I could go on and on." Steve is married to Laura and has two sons, Ian and Sean. This email address is being protected from spambots. You need JavaScript enabled to view it.

Ed Harrison ('99 to '00 Cayuga staff) – Ed from Richmond, California wrote us to say "Hey". He's been teaching the last seven years and is planning to retire next year and sail around the world on his 51' cutter rig, split cabin center cockpit yacht. This email address is being protected from spambots. You need JavaScript enabled to view it.

Brandon Carter ('01 Cayuga camper) – Brandon dropped us a quick "Hello" from Potomac, Maryland. This email address is being protected from spambots. You need JavaScript enabled to view it.

Kevin Belloma ('88 to '89 Cayuga staff) – Kevin lives in Blue Springs, Missouri and recently emailed us to say "What great summers I had at Camp Cayuga. I really miss being a tennis counselor on the courts all day. I live outside of Kansas City and have been married over three years. I would love to hear from anyone who remembers me and our nights hanging out at Kuester's. What great people and great times!" This email address is being protected from spambots. You need JavaScript enabled to view it..

Mike Davis ('89 and '91 Cayuga staff) – Mike from Spalding, England is looking for anyone who attended Camp Cayuga with him and has kept in touch with other alumni over the years. He writes, "It would be great to find out what everyone is up to." This email address is being protected from spambots. You need JavaScript enabled to view it.. S

ari Cohen ('80 Cayuga camper) – Sari emailed us from New York, New York to say "Hi" to all the campers from her time at camp. She is looking for her long, lost friend named Aaron, a fellow camper she used to ride horseback with and who may be from the Bahamas. This email address is being protected from spambots. You need JavaScript enabled to view it..

Dawn Burk ('85 to '86 Cayuga camper) – Dawn lives in Conesus, New York and writes, "I'll never forget the memories I have from camp. Hi to Lauren, Lindsay, Amy, Lori, Andy and anyone else who remembers me from camp. Would love to hear you!" This email address is being protected from spambots. You need JavaScript enabled to view it..

Eric Padol ('85 Cayuga camper) – Eric sent an email from Bronx, New York saying "Although I was only at camp a short time, my time there was memorable as I met my cousin, Randy Rolon, who now lives in Denver, Colorado. I would love to touch base with anyone from that summer, especially anyone who was part of my bunk. Best wishes to all!" This email address is being protected from spambots. You need JavaScript enabled to view it..

David Leach ('99 to '00 Cayuga staff) – David emailed us from Exmouth, England and sends a big "Hello" to all the campers and counselors from 1999 and 2000. David writes "Hopefully most of you will remember me from catching you on the trapeze. I'm now an officer in the British Army and fly helicopters, which is a blast! I miss Cayuga so much, and hope to hear from anyone who was there during the summer of 1999 or 2000." This email address is being protected from spambots. You need JavaScript enabled to view it.

Janine (Wertalik) Gregor ('67'ish Cayuga camper) – Janine has some very fond memories of Camp Cayuga. She and her brother attended camp when they were about 8 years old, and both of her parents worked at Cayuga at that time as well. Her father led nature walks, while her mother was a nurse at camp. This email address is being protected from spambots. You need JavaScript enabled to view it.

Matt Kessler ('60 to '61 Cayuga camper) – Matt was looking through some old photos and found a cabin photo from 1960. He writes " I have some wonderful memories of my two summers at camp, especially the one in which I was responsible for a horse. I ended up at a university "high above Cayuga's waters" (Cornell)! I'm now in the process of trying to track down the Jellinek twins, who I haven't been in contact with in over 45 years." This email address is being protected from spambots. You need JavaScript enabled to view it.

Kristin Quigley ('02 Cayuga camper) – Kristin lives in Boyertown, Pennsylvania and recently emailed us this message for the Alumni Bulletin Board: "Camp Cayuga started my love of summer camp. This past summer I ran into Cayuga campers and senior staff while I was on vacation at Busch Gardens in Virginia. What a surprise to see kids running around in Cayuga shirts! It brought back the memories. Anyone that remembers me from summer '02 should email me. Go France!" This email address is being protected from spambots. You need JavaScript enabled to view it.

We also recently received a "Hello & How Are You" messages from the following Cayuga alumni: Michael Henwick ('96 Cayuga staff) – from Port Elizabeth, South Africa at This email address is being protected from spambots. You need JavaScript enabled to view it., and Bryan Fitzgerald ('94 Cayuga staff) – from Biltmore Lake, North Carolina at This email address is being protected from spambots. You need JavaScript enabled to view it.

Scott Getz ('73 to '78 Cayuga camper) – Scott from Staten Island, New York emailed us to send a shout-out to Roy Frieband, Cayuga's Horsemanship Director from the '70's who currently practices medicine in Arizona. This email address is being protected from spambots. You need JavaScript enabled to view it.

Lauren Slaff ('80 to '81 Cayuga camper) – Lauren writes that she was pleasantly surprised to see Cayuga's website and was thrilled to read the postings on the Alumni Bulletin Board. After reviewing the comments, "I began to reminisce about my wonderful (sometimes crazy) summers as a teenager at Cayuga and the fun Winter Ski Reunions." This email address is being protected from spambots. You need JavaScript enabled to view it.

Tara (Donahue) Gilligan ('77 to '81 Cayuga camper) – Tara writes "My most cherished memories are of Cayuga. My sister, Sheila, and I made so many great friends at camp including Peter Disanza, Lauren Slaff, Rita, Kim, Kelly, Andy, Tammy (my counselor), Tony (in the kitchen), and so many more. What a blast it has been looking at all the website photos." This email address is being protected from spambots. You need JavaScript enabled to view it.

Meghan Hastings ('01 Cayuga staff) – Meghan lives in Edwardsville, Illinois and is hoping to hear from Jaime Armstrong, a fellow counselor in 2001. This email address is being protected from spambots. You need JavaScript enabled to view it.

Paul Kemp ('98 Cayuga staff) – Paul emailed us from West Yorkshire, England and sends a big hello to all his B-13 boys from 1998. He would love to hear from Matt Cook, Lolly, Jamal and all the guys from cabin B-13. This email address is being protected from spambots. You need JavaScript enabled to view it.

Some other Alumni that dropped us a quick "Hello" include: Susan Dilbert ('60's Cayuga camper) from Boston, Massachusetts at This email address is being protected from spambots. You need JavaScript enabled to view it., Barbara Weisman ('00 to '04 Cayuga camper) from Mahopac, New York at This email address is being protected from spambots. You need JavaScript enabled to view it., Natania Corijo ('91 to '93 Cayuga camper) from Brooklyn, New York at This email address is being protected from spambots. You need JavaScript enabled to view it., Ashlie Klepper ('00 to '03 Cayuga camper) from Fresh Meadows, New York at This email address is being protected from spambots. You need JavaScript enabled to view it., and Lindsay Barcham ('97 to '99 Cayuga camper) at This email address is being protected from spambots. You need JavaScript enabled to view it..

Victor du-Rose ('91, '92, '94, '96, '97, '00 Cayuga staff) – Victor emailed us from Bannockburn, Scotland and writes "Hi to everyone who knew me from camp. The summers I spent there were some of the best I've ever had. I still keep in touch with some of my friends & kids from my time at camp, but would like to hear from anyone who remembers me who wants to reminisce about Cayuga." This email address is being protected from spambots. You need JavaScript enabled to view it.

Mark Mittenthal ('60 to '66 Cayuga staff) – Mark lives in Mequon, Wisconsin and is looking to contact any alumni from the 1960's. This email address is being protected from spambots. You need JavaScript enabled to view it.

Jesse Feldmus ('00 to '04 Cayuga camper) – Jesse, from Red Bank, New Jersey, emailed us this message: "I miss Camp Cayuga so much! I had the best summers of my life there. Give me a shout." This email address is being protected from spambots. You need JavaScript enabled to view it.

Kelli Schwert ('92 Cayuga staff) – Kelli from Rochester, New York sends a shout-out to Spencer, Sarah, Sheri, and Kerry from Summer 1992. Somehow we all managed to stuff ourselves into my tiny Tercel on our days-off. That was wild! And a big hello to my co-cabin counselor (Holly), my co-kiln operator (Joyce), Jenny (the coolest Art Director ever), and to my most memorable campers (the Shabbab sisters and Emily Slater). You all made my summer! Thank you!" This email address is being protected from spambots. You need JavaScript enabled to view it.

Taryn Pizza ('00 to '05 Cayuga camper) – Taryn from Emerson, New Jersey fondly remembers her summers at camp. She writes "I spent the best six summers of my life at Camp Cayuga and it's weird to think that I won't be there this summer. I haven't spent a summer at home since I was eight. I'm going to miss everyone so much!" This email address is being protected from spambots. You need JavaScript enabled to view it.

Keely Chamberlain ('91 to '03 Cayuga camper) - Keely emailed us from Womelsdorf, Pennsylvania and writes "Camp has been such a huge part of my life. I'd love to hear from anyone who remembers me or wants to talk about camp." This email address is being protected from spambots. You need JavaScript enabled to view it.

Craig Gruen-Niemiec ('94 to '98 Cayuga camper) - Craig from Charleston, South Carolina was recently going through some old Cayuga pictures with his sister Kira and remembering "all the memories that will last a lifetime". He writes "Just wanted to send a big hello. I miss Mike Buynak's flagpole speeches. I'm sure some of you will remember one or both of us, so drop me a line." This email address is being protected from spambots. You need JavaScript enabled to view it.

Hilary Denerstein ('80's Cayuga camper) - Hilary lives in Ft. Lauderdale, Florida and recently emailed this message for the Alumni Bulletin Board: "I recently heard about this web page and had to check it out. How cool, and what memories it brings back. I'd love to catch up with my long lost Cayuga friends." This email address is being protected from spambots. You need JavaScript enabled to view it.

Christine Badalamenti ('96 Cayuga camper and '03 Cayuga staff) - Christine lives in Newark, Delaware and emailed this message to us: "Hi everyone, I was a camper in G-23 in '96 and a counselor in G-01 in '03. I miss my campers and all my old friends. Send me an email, I'd love to hear from you all!" This email address is being protected from spambots. You need JavaScript enabled to view it.

We recently received a few short "Hello & How Are You" messages from the following Cayuga alumni: Hayden Rockwell ('00 Cayuga camper) - from Alexandria, Virginia at This email address is being protected from spambots. You need JavaScript enabled to view it.; Alexis Estrella ('97 to '01 Cayuga camper) - from Englewood, New Jersey at This email address is being protected from spambots. You need JavaScript enabled to view it.; Ian Whitmore ('95 to '96 Cayuga staff) - from Thurnscoe, Rotherham England (with a shout out to Finky and all the girls from Sally's cabin and all the guys from his cabin) at This email address is being protected from spambots. You need JavaScript enabled to view it..

Heather Dubrow ('83 to '92 Cayuga camper) – Heather lives in Tamarac, Florida and recently emailed this message for the Alumni Bulletin Board: "The website is GREAT… so many awesome memories of all my summers at Cayuga. I'd love to hear from Suzy, Nikki, Nicole, Amy, Colin, Mike and anyone else who remembers me." This email address is being protected from spambots. You need JavaScript enabled to view it.

Adam Temkin ('88 to '90 camper, '91 Cayuga staff) – Adam is living in Philadelphia, Pennsylvania and is a General Sales Manager for a pharmaceutical glass company. He writes "I had 4 really excellent summers at Cayuga! I'd like to say hi to Robby Hecker, Todd Brown, Jayson Yager, Corey Reese, Jenne Flemming and all my other old camp friends." This email address is being protected from spambots. You need JavaScript enabled to view it.

Kaitie Ames ('96 to '99 Cayuga camper) – Kaitie from Northport, New York writes "I miss Cayuga so much, I had the greatest four summers of my life there! I was just looking through old photos and letters from camp, and it made me miss everything. I'd love to hear from everyone!" This email address is being protected from spambots. You need JavaScript enabled to view it.

Holly (Manning-Longendyke) Manning ('83 to '84 Cayuga camper) – Holly emailed us from Kingston, New York and writes "To anyone out there who remembers me… hey there. In '83, I was in G-9 with Sabina Stern and Wendy Sisselman. In '84 I was in G-14 with Colby and Kiki. Both my brother (Joseph Manning) and my sister (Samantha Manning) went to camp years later (early to mid '90's). I'd love to hear from any '83 or '84 alumni." This email address is being protected from spambots. You need JavaScript enabled to view it.

Samantha Manning ('92 to '93, '95 Cayuga camper) – Samantha from Port Charlotte, Florida fondly remembers the many awards she received and late night pizza parties she was a part of. She writes "I loved every summer that I was at Cayuga. I have so many great memories. I know that my kids will be going to Cayuga when they're older." This email address is being protected from spambots. You need JavaScript enabled to view it.

Max Nellis ('97 to '00 Cayuga camper) – Max lives in Kensington, Maryland & emailed us this message: "Being a Cayuga camper was one of the best experiences of my life. I had so much fun with everyone and hope to hear from anyone who wants to say hi." This email address is being protected from spambots. You need JavaScript enabled to view it.

Zac Pedinoff ('03, '05 Cayuga camper) – Zac emailed us from Pittstown, New Jersey and writes "Just wanted to say hey to everyone and thanks for the great memories. My experience at Cayuga was filled with excitement and fun, allowed me to meet new friends, try new and interesting activities and live in a setting with great people. I'll miss Cayuga a lot, but hope to return as a counselor one day. Best wishes to everyone and I hope everyone has as much fun at Cayuga as I did." This email address is being protected from spambots. You need JavaScript enabled to view it.

Ken Stanley (mid 1960's Cayuga camper) – Ken lives in Edison, New Jersey and recently emailed this message for the Alumni Bulletin Board: "What GREAT memories! I'd recommend Camp Cayuga to any parent who wants their kids to grow in character and learn responsibility, as well as have a summer of fun and great memories of their own." This email address is being protected from spambots. You need JavaScript enabled to view it.

Mindy (Pritikin) Hirshburg ('83 to '86 Cayuga camper) – Mindy from Livingston, New Jersey writes "About 8 years ago a bunch of us from the mid '80's got back in touch – Jocelyn, Deegan, Colby, Gina, David, Kurt, Krissy, Harley, Debbie, Sunny, etc. But of course we all went on with the rest of our lives and have lost touch again. So where is everyone now?" This email address is being protected from spambots. You need JavaScript enabled to view it.

Tom Willard ('00 Cayuga staff) – Tom emailed us from Savannah, Georgia and writes "What I wouldn't give for another summer at Camp Cayuga! I hold the memories close: Olympics, Busch Gardens, hiking the Appalachian Trail. Even more important though were the friendships I developed with the campers and the staff. Hope everyone is well." This email address is being protected from spambots. You need JavaScript enabled to view it.

Some other Alumni that dropped us a quick "Hello" include: Debby Dowlin ('94 to '96 Cayuga camper) from Philadelphia, Pennsylvania at ddowlin@g,ail.com; Debi (Huber) Ross ('62 Cayuga camper) at This email address is being protected from spambots. You need JavaScript enabled to view it.; Lindsay Barcham ('97 to '99 Cayuga camper) from Trumbull, Connecticut at This email address is being protected from spambots. You need JavaScript enabled to view it.; Vanessa (Ploski) Koi ('73 to '75 Cayuga camper) at This email address is being protected from spambots. You need JavaScript enabled to view it.; Joseph Mansour ('89 to '94 Cayuga camper) from Wallington, New Jersey at This email address is being protected from spambots. You need JavaScript enabled to view it.; and Lauren Walsh ('04 Cayuga staff) from Sterling Heights, Michigan at This email address is being protected from spambots. You need JavaScript enabled to view it..

Ellen McDermott ('99 to '00, '02 to '05 Cayuga camper) – Ellen from Watchung, New Jersey writes "I had the six most amazing summers of my life at Camp Cayuga and I look forward to returning as a counselor and/or senior staff member someday soon." This email address is being protected from spambots. You need JavaScript enabled to view it.

Petr Lanik ('91 to '92 Cayuga staff) – Peter lives in Prague, Czech Republic and sends his greetings to everyone and the Buynak Family and is looking to contact Jacek Skrodzski, Robert Balabas and any else who remembers him from his summers at Camp Cayuga. This email address is being protected from spambots. You need JavaScript enabled to view it.

Michelle Leardo ('96 to '02 Cayuga camper) - Michelle from North Caldwell, New Jersey spent 7 summers at Cayuga and recently sent us an email saying "Hi everyone! I just found the Cayuga website and after surfing through all the pages, it really made me miss camp!!! So, if any of you alumni remember me, email me!" This email address is being protected from spambots. You need JavaScript enabled to view it.

Matthew "Bowser" Thompson ('92 to '94, and '97 Cayuga camper - '00 to '04 Cayuga staff) - Bowser spent 9 summers at Cayuga: 3 as a camper, 1 as an assistant cook, 3 as a counselor, and 2 summers as a senior staff member. Bowser completed his education in Culinary Arts and is planning to open his own Bistro/Bakery Shop. Bowser writes "I'm sending this shout out to all my fellow staff members and campers. I hope to hear from you all. Have a great day!" KThis email address is being protected from spambots. You need JavaScript enabled to view it.

"Ranger" Rick Lamon ('00 to '05 Cayuga staff) - Ranger Rick lives in Chelsey, Canada and emailed this message to us: "Hey everyone, I've had a great time at Cayuga over the past 6 summers and am hoping to continue the experience for many future years. Cayuga campers are great kids and the staff is superb! Keep in touch." This email address is being protected from spambots. You need JavaScript enabled to view it.

Terri Cahn ('72 to '76 Cayuga camper and '05 Cayuga staff) - Terri from Coral Springs, Florida writes "After leaving Cayuga 29 years ago as a camper, becoming a parent of Cayuga campers, can you really go "home" again and work there as a senior staff member? The answer is undeniably "YES"! Cayuga is still the same magical place it has always been. Brian, I'm not sure how you and your incredible staff do it, but you continue to do it year after year." This email address is being protected from spambots. You need JavaScript enabled to view it.

Jake Jacobson ('67 to '73 Cayuga camper) - Jake lives in Sarasota, Florida and emailed this message to us: "My curiosity got the best of me. I just decided to see if Cayuga was still around and BAM I found your website...The greatest 7 summers of my life. The pictures have certainly shown how much the camp has grown since way back when! I would love to hear from anyone who remembers me from my summers at Cayuga between 1967 and 1973." This email address is being protected from spambots. You need JavaScript enabled to view it.

Beth Churchill ('96 to '04 Cayuga staff) and Marcus Churchill ('96 to '04 Cayuga camper) - Beth & Marcus write: "Marcus and I miss Cayuga so much, especially after spending the past 9 summers at camp! But, relaxing on the beach wasn't too hard to handle in place of camp. We have so many awesome memories of Cayuga and the people we met there. It truly is a special place." This email address is being protected from spambots. You need JavaScript enabled to view it. or This email address is being protected from spambots. You need JavaScript enabled to view it.

Lisa (Ackermann) Toubail Grossman ('75 to '80 Cayuga camper) - Lisa emailed us from Tucson, Arizona and writes "My best memories come from the 1976 Camp Olympics when my team's closing ceremonies routine was "Here Comes the Sun". That memory has stayed with me for over 20 years! I am happily married with a son, Devin, and have another child on the way! Anyone out there in Arizona?" This email address is being protected from spambots. You need JavaScript enabled to view it.

Mary Cay (McLaughlin) Esch ('90 to '98 Cayuga staff) - Mary Cay writes "It's amazing how a website can bring back all the memories! Bill and I are still in the Lehigh Valley area and have 2 girls, Millie and Meggy. They are definitely future Cayuga campers! I am working for a Biotech Co. in NJ - a big switch from camp, but I love it. There are too many people I remember to list them all here. I most especially remember: Bas from the kitchen, the office staff, Ally, Erin, Melissa O., Fletch, Feasty, Ken, Paul, Heidi, etc. Hope everyone is well, drop me an email if you get the chance. My memories of Cayuga will never be forgotten. Does anyone else remember the day Brian came to flagpole in his pajama top?" This email address is being protected from spambots. You need JavaScript enabled to view it.

Erin (MacCormack) Lally ('99 Cayuga staff) - Erin emailed us from London, England to say "I can't believe it's been nearly 6 years since my Cayuga days. I am now living in London with my husband Adam MacCormack who I met at Cayuga when I was a counselor. Another Cayuga wedding! Anyone who remembers me is welcome to email me to say Hi!" This email address is being protected from spambots. You need JavaScript enabled to view it.

We also received a short "Hello & How are you" message from the following Cayuga alumni: Jenna Quattrone ('02 Cayuga camper) - from Blackwood, New Jersey at This email address is being protected from spambots. You need JavaScript enabled to view it.; Dawn Burk ('96 Cayuga camper) - from Lakeville, New York at This email address is being protected from spambots. You need JavaScript enabled to view it.; Max Williams ('04 to '05 Cayuga camper) - from West Chester, Pennsylvania at This email address is being protected from spambots. You need JavaScript enabled to view it.; and Andrew Toups ('99 to '05 Cayuga camper) - from Dayton, Texas at This email address is being protected from spambots. You need JavaScript enabled to view it..

Troy Ware ('01 Cayuga staff) - Troy recently moved to Norman, Oklahoma and got married in November, 2005. His wife is a meteorologist. Troy writes "I'm presently searching to find that "perfect" job. Well, keep in touch ya'll." This email address is being protected from spambots. You need JavaScript enabled to view it.

Pam (Webber) Kornreich ('84 to '87 Cayuga camper) - Pam now lives in New Albany, Ohio and writes "Hi again, I just can't stay away from this website. I have a 2 year old who's itching to attend Cayuga. I'd love to hear from Sari Vernon, Colby Jones and Alyssa (AJ) Gettleman. What happened to our awesome counselors Monica Riley and Carrie Knezevich? Drop me an email." This email address is being protected from spambots. You need JavaScript enabled to view it.

Liz (Salomon) Sobel ('85 to '86 Cayuga camper) - Liz from West Orange, New Jersey writes "Hi everyone. I hope you all are well. I'm doing great. I'm married and have a little amazing daughter who was born in 2003. I would love to hear from all my camp friends from 1985 and 1986 to catch up and reminisce!" This email address is being protected from spambots. You need JavaScript enabled to view it.

Jenna (Niforos) Fleming ('86 to '91 Cayuga camper) - Jenna lives in New City, New York and recently emailed this message for the Alumni Bulletin Board: "I am so happy that I found this alumni board. Reading all the entries brought back so many great memories after my 6 summers at Cayuga. I miss you all very much and hope all is well. I want to say hello to Nicole Berwald, Tom Spinelli, Corey Reese, Amy Vent, Naomi Atkins, Heather Dubrow, and anyone else that remembers me. I recently got married and bought a house. I am currently employed as a Senior Software Support Coordinator with a national MRI company." This email address is being protected from spambots. You need JavaScript enabled to view it.

Jen Green ('97 to '99 Cayuga staff) - Jen emailed us from Manchester, England to say "Hi guys, I can't believe it's been 6 years since I was at camp. I think about Cayuga all the time and have very fond memories of my 3 summers there. I graduated in 2000 with a BS in Sport Science and am currently working in Bolton, North West England, coordinating our "Active Health" project. Debi Gordon came to visit me and we got together with Anthony Drewett and Lee & Katie White. It was great to see everyone again. Drop me an email and let's reminisce!" This email address is being protected from spambots. You need JavaScript enabled to view it.

Meghann Hastings ('01 Cayuga staff) - Meghann from Muncie, Indiana emailed us to say "I would like to say hello to all the girls from Cabin G-25 and my co-counselors. I would also like to give a shout out to all the Teenside staff from 2001. I had a great time working at Camp Cayuga, and my memories of camp are with me often. I am currently finishing my Masters Degree in Counseling at Ball State University." This email address is being protected from spambots. You need JavaScript enabled to view it.

Chris Marino ('84 to '91 Cayuga camper) - Chris lives on Park Avenue in New York City and after spending 8 summers at Cayuga, he'll never forget his camp friends. He writes "Does anyone know where Ian Gibbs and Greg Spatz are hiding?" This email address is being protected from spambots. You need JavaScript enabled to view it.

Kerry Ronan ('92 to '94 Cayuga camper) - Kerry now lives in Stamford, Connecticut. She emailed this message: "I ran into Mike Fikaris in NYC last summer. It was hard to believe how many memories came rushing back to me. I would like to say hello to Eric Brooks, Mike Fikaris, Paul Sokoloff, Elyse Jacobs, Ashley Fields, Courtney Zappasodi and anyone else who remembers the summers of 1992, 1993, and 1994. I would also like to thank Camp Cayuga for the best summers of my life." This email address is being protected from spambots. You need JavaScript enabled to view it.

Kelly Delaney ('84 to '86 Cayuga camper) - Kelly emailed us from Seffner, Florida and says "I can't believe I found your website! I still have the G-10 cabin recording we made back then...And then we all moved over to Teenside which was great. Woo-eee!!! I now have a daughter and work in the computer field. Anyone from the G-10 gang give me a shout! You were like family...I will never forget how you girls kept me from being homesick." This email address is being protected from spambots. You need JavaScript enabled to view it.

Jon McPherson (1988 Cayuga staff) - Jon from Herts, England emailed us during the summer to let us know that he (from Cabin B-12) and Jeff Anderson (from Cabin B-8) are anxious to get in touch with anyone from the summer of 1988. This email address is being protected from spambots. You need JavaScript enabled to view it.

Jon Vena ('85 to '87 Cayuga camper) - Jon writes "Hey, I'm here in New Jersey working in entertainment PR / media and I'm looking to say hello to anyone who may remember those great days at Cayuga in 1985, 1986, and 1987." This email address is being protected from spambots. You need JavaScript enabled to view it.

Warren "Rocky" Rockmacher - Rocky emailed us to say "I am married and living in Turnbull, Connecticut. My 4th child was born in June 2005 and my oldest will be attending Cayuga in '06. I am still in touch with Mike McCornac and Ali Alavi." (It was nice to see you at camp this summer Rocky!) This email address is being protected from spambots. You need JavaScript enabled to view it.

Philip Halprin ('72 to "74 Cayuga camper) - Philip emails the following message from Los Angeles, California: "I was in bunk B-2, B-3, and that funny bunk building (4-pack) that was located between the quonset hut and the dining hall. We shared that building with some of the Senior girls. Richie Specter was my cabin counselor for all three years, first as a CIT, then assistant counselor, along with Jeff Platin. Looking back, those days were definitely some of the best times of my life! It'd be great to hear from someone I knew back then when I was 9 years old!" This email address is being protected from spambots. You need JavaScript enabled to view it.

Amanda Zellman ('98 to '04 Cayuga camper) - Amanda writes " It's hard to believe that I've spent half of the summers of my life at Camp Cayuga. I had 7 excellent summers at Cayuga and will surely miss camp this summer (for the first time in 7 years). I can't remember spending the 4th of July at home! Anyone who knew me can email me." This email address is being protected from spambots. You need JavaScript enabled to view it.

Anthony Fletcher ('90 to '91 Cayuga camper) - Anthony emailed us from Bridgewater, New Jersey to say hi. He writes "I was looking through some old pictures of me at summer camp when I was about 8 years old. I had a lot of fun at Cayuga and a lot of good memories." This email address is being protected from spambots. You need JavaScript enabled to view it.

Oswaldo Nicoletti (Cayuga camper) - Oswaldo, who resides in Paris, France, emailed us to say "bonjour". This email address is being protected from spambots. You need JavaScript enabled to view it.

James Norman ('90 to '95 Cayuga camper) - James spent 6 summers at Cayuga and is currently living in Plainsboro, New Jersey. James writes "I am doing great managing a branch of one of the country's finest salons." This email address is being protected from spambots. You need JavaScript enabled to view it.

Al Smith ('83 to '89 Cayuga staff) - Al was Cayuga's Horsemanship Director for several years in the '80's. He received his equestrian experience from the Junior Essex Troop of Calvary in West Orange, New Jersey. Al got married years ago and has children who are anxious to attend Cayuga in the future! He lives on a smaller horse farm in Chambersburg, Pennsylvania and would like to hear from some Cayuga alumni. This email address is being protected from spambots. You need JavaScript enabled to view it.

Here are some other e-mail addresses from other alumni: Trish Ajello ('00 to '01 Cayuga staff) from Dallas, Texas at This email address is being protected from spambots. You need JavaScript enabled to view it.; Michelle (Davis) Riehle ('98 Cayuga staff) - from Milwaukee, Wisconsin at This email address is being protected from spambots. You need JavaScript enabled to view it.; Rebecca Bloom ('04 to '06 Cayuga camper) - from Fairfax Station, Virginia at This email address is being protected from spambots. You need JavaScript enabled to view it.; Sonja (Legge) Rouse (early 80's Cayuga camper) - from Basking Ridge, New Jersey at This email address is being protected from spambots. You need JavaScript enabled to view it.; and Marjorie (Sims) Marks ('93 Cayuga camper) - from Tinton Falls, New Jersey at This email address is being protected from spambots. You need JavaScript enabled to view it..

Noah Prince ('98 to '01 Cayuga camper) - Noah emailed us to let everyone know he is now residing in Rosemont, Pennsylvania. This email address is being protected from spambots. You need JavaScript enabled to view it.

Susie (Solo) Jennings ('91 Cayuga staff) - Susie currently resides in Colorado Springs, Colorado and would like to receive an email from anyone who attended Cayuga during the summer of 1991. This email address is being protected from spambots. You need JavaScript enabled to view it.

Elizabeth Kellin ('70 to '77 Cayuga camper) - Elizabeth now resides in Los Angeles, California and writes " The 8 summers I spent at Cayuga were so much fun. It was the most magical time in my younger life. Thank you for the memories." This email address is being protected from spambots. You need JavaScript enabled to view it.

Alan Smolen ('60 to '64 Cayuga camper & Cayuga staff) - Alan from Queens Village, New York attended Cayuga as both a camper and later as a Horseback riding instructor. Alan writes "Although all my contacts have been lost over time, I still clearly remember many names and have vivid memories of my camp experiences and adventures. Those 5 summers of my youth have helped shape the rest of my life! With apologies to the British author Charles Dickens who wrote "A Tale of Two Cities",..."It was the best of times and it was THE BEST OF TIMES!" This email address is being protected from spambots. You need JavaScript enabled to view it.

Joe Gardner ('79 to '86 Cayuga camper) - Joe, who is from Ambler, Pennsylvania, writes "Holy Cow! Brian Buynak is still running the show at Camp Cayuga! Brian, I don't know if you remember me, but you were my first counselor. Thanks for putting up with me and my antics, and setting me on the road to 8 great years at Cayuga. If you get a chance, drop me a line and let me know how you are doing and what you are up to." Joe reports that he's married with two lovely daughters, and lives in his dream home outside Philadelphia. He'd love to get back in touch with all of his Cayuga friends to share his memories of Cayuga. Hey Joe, of course I remember you: dirty-blond hair, not tall, from Pennsylvania (the only PA kid in our cabin), and you were my favorite camper! This email address is being protected from spambots. You need JavaScript enabled to view it.

Dustin Deen ('01 Cayuga staff) - Dustin from Wylie, Texas sends a big Cayuga hello to the boys in Cabin B-3 from the summer of 2001 and all the counselors who became some of his best friends: Mercedes, Cynthia, Kerrie, James, Dave, Cameron, Sarah, Kat, Bear, Darcie, Jason, and Jamie Cromar. Dustin writes "I hope everyone is doing well and I'd like to hear from you guys. Email me." This email address is being protected from spambots. You need JavaScript enabled to view it.

Nikki Finnel ('92 to '93 Cayuga camper) - Nikki from Jamaica, New York is presently a Social Studies school teacher in the Bronx and would like to hear from other Cayuga alumnus. This email address is being protected from spambots. You need JavaScript enabled to view it.

Loraine (Thomas) Mahar ('98 to '00 Cayuga staff) - Loraine emailed us from Battle Creek, Michigan to tell us she's now married and has a daughter named Madison. She also reported that she attended the wedding of her best camp friend, Emily (Paneck) Bice (who was selected the Counselor of The Year in 1998 and returned as a senior staff member). Loraine says hi to everyone. This email address is being protected from spambots. You need JavaScript enabled to view it.

Joe Galushka ('82 to '85 Cayuga staff) - Joe is presently residing in Galloway, New Jersey and emailed us to say he married Sandra Lewis (also a former Cayuga counselor) 9 years ago. They have a son (Jake) and a daughter (Jennifer). They would love to hear from counselors and campers from their tenure in the early 80's. Joe, great hearing from you. The last email you sent us was over 10 years ago when you were enrolled in graduate school in Kentucky. You'll always be remembered by the Buynaks! This email address is being protected from spambots. You need JavaScript enabled to view it.

Daniel Heinberg ('98 to '02 Cayuga camper) - Daniel from Brooklyn, New York has fond memories of his 5 summers at Cayuga and sends a big hello to everyone. This email address is being protected from spambots. You need JavaScript enabled to view it.

Amy (Kirk) Stieglitz ("75 to '76 Cayuga camper) - Amy from Yardley, Pennsylvania writes "Great website! Boy, it brings back great memories. I was 6 years old when I first attended Cayuga and still have fond memories of my summers there. I attended camp with my older sister Robin, and still remember a few campers like: Randi Rothstein, Sheryl Frank, Steve Feldman, and Steve Goldfarb. Ah the memories!!! Email me if you were at Cayuga in 1975 or 1976." This email address is being protected from spambots. You need JavaScript enabled to view it.

Adam Ricciardi ('96 to '00 Cayuga camper) - Adam from Newark, Delaware emailed us to say he's been in touch with many Cayuga alumni, but would like to hear from anyone who attended camp in 1996, 1997, 1998, 1999 or 2000. He says hello to fellow camper Marc Lande. This email address is being protected from spambots. You need JavaScript enabled to view it.

Jenny (St. Charles) Turner - ('91 Cayuga staff) - Jenny emailed us from Fowlerville, Michigan and writes "I am married and have 2 daughters. I loved my summer at Cayuga. Just wanted to say a quick hello to all my campers in Cabin G-7 from the summer of 1991: Sara, Jessica, Bianca, Lauren, Robin and my staff friends Stephanie Granek, Jodi, Cindy, Wendy, Mike, Jeff and John (and anyone else I may have forgotten after 14 years.) I still have great memories. I'd love to hear from anyone who remembers me. I have lots of pictures if anyone wants a trip down memory lane". This email address is being protected from spambots. You need JavaScript enabled to view it.

Laura (Shifflett) Ritter ('00 Cayuga staff) - Laura from Richmond, Virginia sends her regards to all Cayuga campers and staff from summer 2000. This email address is being protected from spambots. You need JavaScript enabled to view it.

Jill (Young) Levin ('85 to '88 Cayuga camper) - Jill still resides in Maryland and writes "Remember us? Betsy Book and I have wonderful memories of our summers at Cayuga. We'd love to hear from other alumnus." Yes, we sure do remember you guys - keep in touch! This email address is being protected from spambots. You need JavaScript enabled to view it.

Debra (Caplan) Fishman ('80 to '88 Cayuga camper) - Debra is now married and writes "I'm so happy to learn the Buynaks are still directing Camp Cayuga. I miss camp so much and wish I could be a camper again." Great hearing from you Debra! This email address is being protected from spambots. You need JavaScript enabled to view it.

Mike Potter ('03 Cayuga staff) - Mike from Wilmington, North Carolina sends his regards to everyone from summer 2003 and plans to return to camp in 2006. This email address is being protected from spambots. You need JavaScript enabled to view it. Some other Alumni that dropped us a quick "Hello" include: Stephanie Silva ('94 Cayuga camper) - from Cheltenham, Pennsylvania at This email address is being protected from spambots. You need JavaScript enabled to view it.; Andy Peters ('87 & '89 Cayuga staff) - from Bury, England at This email address is being protected from spambots. You need JavaScript enabled to view it.; Kyle Kashuck ('99 to '00 Cayuga camper) - from Palm Harbor, Florida at This email address is being protected from spambots. You need JavaScript enabled to view it.; Arin Sternbach ('04 Cayuga camper) - from Brooklyn, New York at This email address is being protected from spambots. You need JavaScript enabled to view it.; and Darcy (Sypek) Scofield ('81 to '84 Cayuga camper) - from Marstons Mills, Massachusetts at This email address is being protected from spambots. You need JavaScript enabled to view it. .

Nicole Casiano ('87 to '89 Cayuga camper) – Nicole writes, "I spent three of the best summers of my youth at Cayuga. I'm happy to see that Cayuga is still going strong and it looks better than ever." She wants to say hi to everyone! This email address is being protected from spambots. You need JavaScript enabled to view it.

Lauren Giulii ('01 Cayuga camper) – Lauren sends a big shout-out to the girls of Cabin G-8 in 2001 and hopes to get together again real soon. This email address is being protected from spambots. You need JavaScript enabled to view it.

Deirdre (Diamint) Pomerantz ('73 to '77 Cayuga camper) – Deirdre would love to hear from anyone who remembers her and wants everyone to know that Camp Cayuga was the best part of her childhood! This email address is being protected from spambots. You need JavaScript enabled to view it. Janet Harden ('96 to '97 Cayuga staff) – Janet is a 5th grade teacher in Cincinnati. She is also actively raising money for Team In Training through the Leukemia & Lymphoma Society, which is sponsoring her marathon run in Hawaii in December. Let her know if you would like to donate money to a great cause. This email address is being protected from spambots. You need JavaScript enabled to view it.

Alex Wollman ('00 to '04 Cayuga camper) – Alex from Cabin G-25 in 2004 and wants to let everyone know that she wants to keep in touch. This email address is being protected from spambots. You need JavaScript enabled to view it.

Suzanne (Rothman) Major ('85 & '86 Cayuga camper) – Suzanne emailed the message, "Thanks for the memories that were the best years of my life." This email address is being protected from spambots. You need JavaScript enabled to view it. Risa (Kane) Gold ('74 Cayuga camper) – Risa attended camp for one month and as it turns out, her husband of many years had also attended Cayuga as a camper in the early 70's! If anyone remembers Risa, her husband Bruce Gold, stepsister Linda Pinto, or cousin David Sparrow, let her know.

Lisa Brosnan ('82 to '84 Cayuga camper) – Lisa reports that the 2003 reunion of for the 1980's campers in New York City was fantastic. Lisa was happy to discover that the Cayuga t-shirts distributed at the reunion were still the traditional color red! Lisa was happy to catch-up with old friends including Candi Leonardo, Sue Spardel, Rich Manfre, Randy Rolon, Elyse Merman, Stephanie Palermo, Andy Reale and several others. The gang would like to get together again in NYC sometime in the future, and hopes next time to see Hetty Atkins, Sue Kalman, Jamie Dermer and other campers from the '80s. This email address is being protected from spambots. You need JavaScript enabled to view it.

Ana Cristina Uruena ('99,'01,'02 Cayuga camper) – Ana emailed us from her home in Venezuela to say "I love Camp Cayuga. I just wanted to say hi, and let everyone know I'm going to college in the States and I soon hope to get in touch with my old camp friends. I also plan on returning to Cayuga as a counselor. My summers at Cayuga were special and awesome. I made lifelong friends from different countries around the world. I hope future generations enjoy the same experience I had - it was the time of my life!" This email address is being protected from spambots. You need JavaScript enabled to view it.

Scott Kraemer ('80 to '84 Cayuga camper) – Scott sent us a short email saying he thinks about his summers at Cayuga often and that they were great summers! This email address is being protected from spambots. You need JavaScript enabled to view it.

Michael Henwick ('96 Cayuga staff) – Mike, who was one of our Flying Trapeze Instructors in Cabin B-15, reports that after camp he & Brent Jones traveled around the US. He would like to hear from anyone who attended Cayuga in 1996. This email address is being protected from spambots. You need JavaScript enabled to view it.

Bonnie (Weisman) Pappen ('73 & '74 Cayuga camper) – Bonnie would love to hear from anyone camper or counselor who was in her cabin in 1973 and 1974. Bonnie has lived in Houston, Texas since 1986. She is an attorney and has two daughters. This email address is being protected from spambots. You need JavaScript enabled to view it.

Zeena (Berkowitz) Wathen ('63 to '66 Cayuga camper) – Zeena, who attended Cayuga back in the 60's for 3 summers, is interested in getting in touch with anyone who might have a camp yearbook for the time that she was at camp. This email address is being protected from spambots. You need JavaScript enabled to view it.

Cristal Stevens ('02 Cayuga camper) – Cristal emailed us to say hello to everyone reading the alumni Bulletin Board. She's a serious student and misses her "carefree" Cayuga summers. This email address is being protected from spambots. You need JavaScript enabled to view it.

We also received a short "Hello & How are you" message from the following Cayuga alumni: Paige Schott ('03 Cayuga camper) at This email address is being protected from spambots. You need JavaScript enabled to view it. ; Adam Cook ('02 Cayuga staff) at This email address is being protected from spambots. You need JavaScript enabled to view it. ; Jenna Quattrone ('02 Cayuga camper) at This email address is being protected from spambots. You need JavaScript enabled to view it. ; Lynette Schimpf ('92 Cayuga staff) at This email address is being protected from spambots. You need JavaScript enabled to view it. ; and Elise (Gold) Sewall ('67 to '72 Cayuga camper) at This email address is being protected from spambots. You need JavaScript enabled to view it..

Kim Stanziola-Elbert ('96, '98, '99, '00 Cayuga staff) – Kim's a great gal who we hear from often. She graduated from East Stroudsburg University and had originally worked in the stocks & bonds industry prior to being employed full-time for Camp Cayuga. Kim is married. She is an Elementary Education Teacher and a swim coach at the Wilkes-Barre YMCA. This email address is being protected from spambots. You need JavaScript enabled to view it.

John Guebara ('01 Cayuga staff) – John says hi to everyone from summer 2001. He and Sally Prue, who he met as a staff member at Cayuga in 2001, are living in Vermont with their son. They'd like to get in touch with anyone from Junior Campus that summer. This email address is being protected from spambots. You need JavaScript enabled to view it.

Greg Berman ('93 & '94 Cayuga camper) – Greg would like to touch base with the guys he met in 1993 and 1994. He said those 2 summers were the best summers of his life! He sends a shout-out to: Kristy Centrelli, Liz McArdle, Kate Catenacci, Allyson Rogovitz, Marissa Oliff, Debbie Jacobs, Liz Jerlinski, Rich Chiovarelli, Elyse Cantor and Jessica Vogel. This email address is being protected from spambots. You need JavaScript enabled to view it.

Kathy & Joe Pennigar ('93 to '96 Cayuga staff) – Kathy, one of our camp nurses, announces that Jessica (her daughter) who had attended Cayuga as a camper, is now married and has a child. Kris (her son) who also attended Cayuga, is also married. Kathy and Joe still live in Charlotte, NC and report that they still miss camp even after 10 years! This email address is being protected from spambots. You need JavaScript enabled to view it.

Janna Orons ('03 Cayuga camper) – Janna's email tells us how much she misses all her Cayuga friends, especially the teen campus gang from Cabin B-25 and Cabin G-23. She wants everyone to email her. This email address is being protected from spambots. You need JavaScript enabled to view it.

Whitney Meyer ('02 & '03 Cayuga camper) – Whitney writes, "The senior staff and counselors from '02 and '03 were the best! You can email me anytime you want to chat. I live near camp now, so if any of you are in the neighborhood and want to visit, just let me know." This email address is being protected from spambots. You need JavaScript enabled to view it.

Julie Edelstein ('03 Cayuga camper) – Julie would like to chat with any Cayuga camper from 2003. Give her a shout at This email address is being protected from spambots. You need JavaScript enabled to view it.

Cassie Kreitner ('97 to '02 Cayuga staff) – Cassie emailed us her new updated email address and asked us to post it on our Alumni Bulletin Board. This email address is being protected from spambots. You need JavaScript enabled to view it.

Jana (Reeves) Wiggins ('89 & '90 Cayuga staff) – Jana writes, "I had the time of my life at Cayuga and have lots of great memories! I met my best friend in the world at Cayuga, and to this day, she's still my best friend. That's Rhonda Parr Schafer. Please post a "hello message" on your Bulletin Board to Brian and Trish Buynak, Paul Bassham, Andy Peters, Dennis Stout, and my co-counselor Melissa from Cabin G-8 in 1990. I especially send my love to my "little girls" from Cabin G-5 in 1989. By the way, I've been married to my husband Ben for 12 years. We have 2 children, Blake & Leah Grace, and live in South Georgia. I am the Director of Career Services for a nearby college. I'd love to hear from anyone from summer '89 or '90. This email address is being protected from spambots. You need JavaScript enabled to view it.

Rhonda (Parr) Schafer ('89 to '91 Cayuga staff) – Rhonda writes, "Oh how beautiful Cayuga still is. What good memories. I'm now married and have three little boys. My parents, the "Camp Mom" and "Camp Dad" celebrated their 40th wedding anniversary by riding their motorcycles to Colorado! Brian, the improvements you've made at Cayuga look amazing! Have a wonderful summer!" This email address is being protected from spambots. You need JavaScript enabled to view it.

Dwayne Rummings ('85 & '86 Cayuga staff) – Dwayne remembers his summers at Cayuga like they were yesterday! He's described his fond memories of camp to his wife and 2 kids so many times, the stories seem to get better each time they're told. He thinks about Cayuga often, especially during the summer, and dreams about coming back to camp to work for one last time! (That'd be great Dwayne. We'd love to have you back on board!) This email address is being protected from spambots. You need JavaScript enabled to view it.

Harold "Wedgie" Eder ('82 to '88 Cayuga camper, '95 Cayuga staff) – "Wedgie" would like to get in touch with anybody that remembers him. He misses Cayuga a great deal and feels like he owes a lot to Cayuga for the wonderful experiences he had during his summers. This email address is being protected from spambots. You need JavaScript enabled to view it.; website: www.ederll.com

Amy Amonette ('96 & '97 Cayuga staff) – Amy sends a hello to her 2 co-cabin counselors and her cabin groups. She reports that her 2 summers at Cayuga were great! She had recently been working on a cruise ship in Alaska. Amy says she still thinks about Camp Cayuga every summer and still remembers all of her campers from Cabin G-22 & G-10, the campers in her Fishing Club and her fellow Ropes Course Instructors. This email address is being protected from spambots. You need JavaScript enabled to view it.

Jean (Goldstein) Quinn ('68 to '71 Cayuga camper) – Jean lives in New York and recently emailed us to post her "Hello" on the Alumni Bulletin Board. She still keeps in touch with her Cayuga friends from the 1960's and 1970's. This email address is being protected from spambots. You need JavaScript enabled to view it.

Judy Mines ('79 Cayuga staff) – Judy, the sister of Ivan, emailed us to say hi and to let us know that she is currently on the Board for Easter Seals of NY. Judy also volunteers time to disabled children and teaching them Arts and Crafts. She writes that she still remembers how to instruct Arts & Crafts after 25 years! Say hello to Ivan for us, Judy. This email address is being protected from spambots. You need JavaScript enabled to view it. www.tagoline.com

Greg Funderbunk ('01 Cayuga staff) – Greg is now a proud daddy. His son, Gryffin Todd Mack Funderbunk was born July 7th. Greg and his wife, Marcy, asked us to post this big news on our Alumni Bulletin Board and wanted everyone know how much they miss Camp Cayuga. This email address is being protected from spambots. You need JavaScript enabled to view it.

Andi (Manzo) Dreyer ('85 to '91 Cayuga camper) – Andi claims that all of her friends from home call her the "camp" girl because all she talks about is "camp". She'd like to hear from anyone who attended Cayuga during her 7 years at camp. This email address is being protected from spambots. You need JavaScript enabled to view it.

Garnette MacGillivray ('01 to '03 Cayuga staff) – Gmac, who is originally from Canada, emailed us from England to say she had "a blast at Cayuga". By the way, Garnette was Cayuga's Waterfront Director who had an undefeated Intercamp Swim Meet record during her 2 year tenure at Cayuga. She writes, "I enjoyed the kids, the sun and "the condo"! This email address is being protected from spambots. You need JavaScript enabled to view it.

Lindsay Barcham ('97 to '99 Cayuga camper) – Lindsay wants to reunite with everyone who had attended Cayuga during her 3 year period, most especially her cabin mates from Cabin G-25. This email address is being protected from spambots. You need JavaScript enabled to view it.

Paul Bassham ('89,'91,'92 Cayuga staff) – Paul will always be remembered as one of Cayuga's finest staff members! His hard-working late-night projects with Feasty, Bealsy & Noah will go down in history for true dedication! Paul still has fond memories of camp and working with Brian in Cayuga's NJ business office. Paul writes, "I remember all of my camp trips to: Cape Cod, Niagara Falls, Hershey Park, Busch Gardens, Dorney Park, the AAA Red Barons Baseball Games, and my canoe trip down the Delaware River. They were brilliant trips!" Paul is a police man in England, and married with 2 children (who he plans to send to Cayuga in the future!). This email address is being protected from spambots. You need JavaScript enabled to view it.

Christina Casa ('84 to '87 Cayuga camper) – Christina writes how quickly her summer camp memories "came back" after reviewing our website. She sends a shout-out to some camp friends: Joanne Flomme, Taya, Beth, Jessica and Fayette L, and writes: "Do you remember 'Don't let it end' by Styx, 'Paradise by the dashboard light' and 'Stairway to Heaven'?". She'd like to hear from any camper or staff from the 80's. She is currently in the process of writing-down her fond camp memories into a short play. This email address is being protected from spambots. You need JavaScript enabled to view it.

Rod Stan Lambert ('90 Cayuga staff) – Rod is interested in getting in-touch with the other counselors from the summer of 1990. He reports he's still in touch with some of the Brits (Chris Kett, Nigel Mills, and Birgit Rami) and wants to know if anyone has any news or has heard from Ann Magill? This email address is being protected from spambots. You need JavaScript enabled to view it.

Jackie (Kohn) Satori ('84 to '86 Cayuga camper) – Jackie asked us to post a "hello" on our Bulletin Board and welcomes email from any camper or staff from the mid-80's. She says she "misses her greatest friends". This email address is being protected from spambots. You need JavaScript enabled to view it.

Chris Giles ('90 to '92 Cayuga staff) – Chris emailed us to say, "hi to anyone who was at camp between 90 and 92 who remembers France winning the Olympics (and Feasty & Ken Noah shaving their heads)." Chris sends a shout out to Ken Noah, Sebastian Marechal, and Vince. This email address is being protected from spambots. You need JavaScript enabled to view it.

Judy (Ballantine) Campbell ('86 to '88) – Judy asked us to post her compliment to us, "I love your website!" Thanks Judy. This email address is being protected from spambots. You need JavaScript enabled to view it.

Jacquie Gold Lewis ('72 to '75 Cayuga camper) – Jacquie writes, "I loved my years at Cayuga. I remember it like it was yesterday and will never forget how big a deal it was to win the Riflery Award. I loved the Olympics, rollerskating in the gym, horseback riding, and the quad area where the cabins were located on Junior Campus". This email address is being protected from spambots. You need JavaScript enabled to view it.This email address is being protected from spambots. You need JavaScript enabled to view it.

Larry Winocoor ('65 to '69 Cayuga camper) – Larry writes, "I liked all of my years at Cayuga… especially the trips, the activities, the guys, and just having a great time." This email address is being protected from spambots. You need JavaScript enabled to view it.

Sammi (Frenkel) Goldstein ('80 & '81 Cayuga camper) – Sammi has many fond memories of Cayuga…"so many I don't know where to begin... Swamping the canoes, Ghost Town, Olympics ('Go Red Roos'), Flag Football, Marrying Matt & Brian Buynak on Sadie Hawkin's night" Sammi would like to hear from anyone who attended Cayuga in 1980 and 1981. Sammi adds that she also remembers: Heather Lee O'Grady, Linda and her older brother from Connecticut, Wendy from Franklin Square and Peter Disanza from NY or NJ? By the way Sammi, Pete has posted a message. He is married with 2 kids. This email address is being protected from spambots. You need JavaScript enabled to view it.

Jen (Regar) Paul ('90 Cayuga staff) – Jen emailed us to say, "Hello to anyone who might remember us form 1990. I married Rob Paul in 2002." Jen & Paul were expecting a new daughter in August (2003) This email address is being protected from spambots. You need JavaScript enabled to view it.

Pam (Kornreich) Webber ('83 to '86 Cayuga camper) – Pam is residing in the St. Louis area. She's a proud mom of a baby son born in April of 2003! Pam is already counting the days until she can teach him the "Cayuga Hand Clap". This email address is being protected from spambots. You need JavaScript enabled to view it.

Matt Seckler ('93 to '97 Cayuga camper & '01 Cayuga staff) – Matt emailed us to say hello to everyone from camp in 1993 to 1997. He writes that our new baseball field and dug-outs look great! He also reported that the "little reunion" get-together from 1997 was a big success. Matt hopes "The Netherlands" can pull out another Olympic Victory this coming summer with the "Power of the Windmill!" This email address is being protected from spambots. You need JavaScript enabled to view it.

Warren "Rocky" Rockmacher ('81 to '88 Cayuga camper & Cayuga staff) – Rocky is married in Connecticut and has 3 children. His daughter Talia was born May 28, 2003, who now joins son Zach and daughter Sara. Rocky still remains in-touch with Mike McCornac. Rocky and Mike revisited Cayuga during the summer of 2004. This email address is being protected from spambots. You need JavaScript enabled to view it.

Some other Alumni that dropped us a quick "Hello" include: Amanda Goats ('00 Cayuga camper) at This email address is being protected from spambots. You need JavaScript enabled to view it. ; Hayden Rockwell ('00 Cayuga camper) at This email address is being protected from spambots. You need JavaScript enabled to view it. ; Sandy Sicular ('92-'98 Cayuga camper) at This email address is being protected from spambots. You need JavaScript enabled to view it. ; and Noah Prince ('98 to '01 Cayuga camper) at This email address is being protected from spambots. You need JavaScript enabled to view it.

Nina Epstein (late 50's, early 60's Cayuga camper) – Nina says that her time at Cayuga was memorable. She liked baseball, basketball and all the other sports & programs. She also vividly remembers the warm caring Cayuga staff. Nina writes, "I'd love to hear from anyone who attended camp in the late 50's and early 60's". This email address is being protected from spambots. You need JavaScript enabled to view it.

Sabastiaan en Hedy Marechal (Cayuga staff) – Sabastiaan emails us to say his summers at Cayuga were "an educational experience". He reports that spending 3 months away from home (The Netherlands) in another country working all day & night with children from different backgrounds was the best cultural experience he ever had, and the most rewarding as well. The experience encouraged him to pursue a career working with children. This email address is being protected from spambots. You need JavaScript enabled to view it.

Rita Gaglio ('82 to '85) – Rita is looking to get in touch with anyone that bunked with Rhonda Tulip and herself. This email address is being protected from spambots. You need JavaScript enabled to view it.

Chris Giles ('90 to '92 Cayuga staff) – Chris had such a great time at Cayuga. He enjoyed all the kids, especially the campers from cabin B-10. And we said he'll never forget the staff either! He vividly remembers Feasty, Ken Noah, and Greg the Chef (who always announced in his NY accent "We Got A Birthday Today"). Chris writes, "I'd like to hear from any of the staff from my time at Cayuga". This email address is being protected from spambots. You need JavaScript enabled to view it. A

dam November ('98 & '99 Cayuga camper) – Adam sent us an email saying he misses Camp Cayuga and the fun he had at camp for 2 summers. He says he'd like to get in-touch with other Cayuga campers from his days. This email address is being protected from spambots. You need JavaScript enabled to view it.

Jackie Spitz ('92 to '95 Cayuga camper) – Jackie is looking for anyone from 1992, 1993, 1994 or 1995. She reports that she ran into Mike Fikaris who introduced her to Cayuga's website. Jackie recently contacted Jennie Friedlich (after all these years!). This email address is being protected from spambots. You need JavaScript enabled to view it.

Lindsay Barcham ('97 to '99 Cayuga camper) – Lindsay emailed us to say that she'd like to hear from anyone who attended Cayuga during her 3 year tenure, so she can reminisce and laugh about the past! This email address is being protected from spambots. You need JavaScript enabled to view it.

Jennifer (Hope) Harris ('90 & '91 Cayuga camper) – Jennifer asked us to post a big hello on the Alumni Bulletin Board to the campers from Teen Side during the early 1990's. She said surfing Cayuga's website, brought back a lot of great memories of her summers at Camp Cayuga. Last we heard Jennifer graduated from medical school and had started her residency. Jennifer writes, "I'd like to get in touch with some friends from my days at camp, like: Heather, Corey, Nikki, Nicole, Andy, Amy, and Colin Parham. This email address is being protected from spambots. You need JavaScript enabled to view it.

Sam Wright ('98 Cayuga staff) – Sam wants to drop a huge hello to Mike, Jeff, Ashley & all the Brits & everyone else. He would especially like to get in touch with Tommy S. and his wife to say "thank you". This email address is being protected from spambots. You need JavaScript enabled to view it.

Renee (Marchak) Abstender ('87 Cayuga camper) – Last we heard Renee was staying at home to care for her son James and twins, Brady and Kyle. Renee would like to get in touch with anyone from the summer of 1987, especially her friend, Rhonda Tulip. This email address is being protected from spambots. You need JavaScript enabled to view it.

Candace Leonardo ('80 to '84 Cayuga camper) – "Candi" Leonardo and Andrew "Andy" Reale ('80 to '85 Cayuga camper) planned a staff reunion in New York City. Some of the attendees included Elyse Merman, Steve Sisselman, Lisa Brosnan, Sue Spardel, and Greg Jacobson. A good time was had by all. Email Candace at This email address is being protected from spambots. You need JavaScript enabled to view it..

Jill (Wolodarsky) Klinofsky ('72 to '74 Cayuga camper) – Jill would like to get in touch with the CIT girls from summer 1973. This email address is being protected from spambots. You need JavaScript enabled to view it.

Sam Provisero ('84 to '87 Cayuga camper) – Sam, who resides in Germany, asked us to post his email address for anyone would like to get in touch with him. This email address is being protected from spambots. You need JavaScript enabled to view it.

Spencer Wragg ('92 to '94 Cayuga staff) – Spencer can't believe it has been over 10 years since his first summer at Camp Cayuga. He would like to remind everyone of the "mud bath" (that was the ATV quad track in '92). He has been a policeman in Hampshire, England for the past 7 years. Spencer married his Cayuga sweetheart Sarah Reeds ('94 counselor) in 1998. They have a son, Ethan. Congratulations! This email address is being protected from spambots. You need JavaScript enabled to view it.

Stephen Sisselman (early 80's Cayuga camper) – Stephen emailed us to post a "Hello to Everyone" message on this Bulletin Board. He would like to receive email from anyone who remembers him from the 1980's. He also adds to his email that if anyone reminds him of anything bad he may have done at camp, he promises to deny everything! Way to go, Steve - that's the Steve I remember! This email address is being protected from spambots. You need JavaScript enabled to view it.

David Bailin ('83 to '88 Cayuga camper) – David says hello to all his friends at Camp Cayuga and he would love to find out what happened to some of the campers and counselors that were at Cayuga during his tenure. He is living in New York City and working at radio station WQCD 101.9. This email address is being protected from spambots. You need JavaScript enabled to view it.

Jason Bailin ('83 to '88 Cayuga camper) – Jason is living in Chicago and he says that all is going well. He would definitely welcome any emails from anyone that attended Camp Cayuga with him and his brothers. This email address is being protected from spambots. You need JavaScript enabled to view it.

Nina Epstein (Late 50's Cayuga camper) – Nina would like to find out what happened to the kids in her cabin, especially Linda Krause. This email address is being protected from spambots. You need JavaScript enabled to view it.

Maureen (Osmun) Kiley ('93 & '94 Cayuga staff) – Maureen is married and has two children, Jordan and Shelby. She thinks of Camp Cayuga often and confirms that her memories of Cayuga will last a lifetime. This email address is being protected from spambots. You need JavaScript enabled to view it.

Sioux Timmins ('95 to '97 & '00 Cayuga staff) – Sioux, from England, would like to say hello to all campers and staff from the good old years. She also would like to get in touch with her trapeze instructor staff team (Simon Bisson & Ann Dorwin where are you?). This email address is being protected from spambots. You need JavaScript enabled to view it.

Frances Jones (1983 Cayuga staff) – Frances emailed us to say 'hello" to everyone from 1983. She is waiting to hear from Al Smith, Cayuga's retired Horsemanship Director from the 1980's. This email address is being protected from spambots. You need JavaScript enabled to view it.

Adam Alexander ('84 to '89 Cayuga camper) – Adam is living and managing a restaurant in Lake Worth, Florida. He is looking forward to turning his future children into third generation Cayuga campers. He regrets that he hasn't gone hiking or camping in 20 years but every time he thinks back to his Cayuga days, it feels like it was yesterday! This email address is being protected from spambots. You need JavaScript enabled to view it.

Darci Steranko (1990 Cayuga staff) – Darci contacted us this past summer from Washington state. She has fond memories of her time at Cayuga, including: Being named Counselor of the Year and meeting all the great people (including her wonderful husband, Jim Steranko, a fellow Cayuga counselor). Jim is a school teacher working with disabled students. Darci recalls her Olympic Team, France, winning the Annual Cayuga Olympics that summer. (oo ungowa, France has got the power!!!). This email address is being protected from spambots. You need JavaScript enabled to view it.

Paul Alagna (60's Cayuga camper) – Paul recently found our website after one of his old Cayuga friends told him to check it out. He loved our website. Paul would like to get in touch with anybody that remembers him or his brother Barry. Paul asked us to post a big "hello" to: Bean, Brian Miller, Richie Spector, Mike Roth, Rick Roth, Laurie Rader, Barbara (with the blonde hair from Pennsylvania), and Jim Foss. This email address is being protected from spambots. You need JavaScript enabled to view it.

Jeffrey Schlactus ('66 to '68 Cayuga camper) – Jeffrey would like to say that Camp Cayuga is a great place. He has many tremendous memories from the time he was at Cayuga. This email address is being protected from spambots. You need JavaScript enabled to view it.

Mike Fikaris ('91 to '93 Cayuga camper, '98 Cayuga staff) – Mike would like to say "Hi" to the campers from cabins B-14, B-20, B-22 from '91 to '93 and Cabin B-7from 1998. Mike also added a shout-out to Grant, Paul, Ian, Dana, Brian, Chris Wynne and everyone else! He thinks about his Cayuga Days all the time. He closes with the comment that he still strongly feels that his Olympic Team, Norway, in 1998 was robbed! This email address is being protected from spambots. You need JavaScript enabled to view it.

Suzy Farkas ('88 to '92 Cayuga camper) – Suzy writes, "My summers spent at Camp Cayuga were the best summers I've ever had." Suzy would like to get in touch with Lizzie Heide, Kate Catanachi, Jessica Oliff, Cindy Brock, and Blake Goldstein. This email address is being protected from spambots. You need JavaScript enabled to view it.

Here are some other e-mail addresses from other alumni: Elyse Merman ('78 to '85 Cayuga camper) at This email address is being protected from spambots. You need JavaScript enabled to view it. ; Kelly Robinson ('87 to '88 Cayuga staff) at This email address is being protected from spambots. You need JavaScript enabled to view it. ; Debbie Pianko ('86 to '90 Cayuga camper) at This email address is being protected from spambots. You need JavaScript enabled to view it. ; Alison Quine ('98 to '00 Cayuga camper) at This email address is being protected from spambots. You need JavaScript enabled to view it. ; Bryan Rodriguez ('03 Cayuga camper) at This email address is being protected from spambots. You need JavaScript enabled to view it. ; Seth Roland ('82 to '86 Cayuga camper) at This email address is being protected from spambots. You need JavaScript enabled to view it. ; Maureen (Osmun) Kiley ('93 to '94 Cayuga staff) at This email address is being protected from spambots. You need JavaScript enabled to view it. ; Orlando Fernandez Arellano ('00 to '01 Cayuga camper) at This email address is being protected from spambots. You need JavaScript enabled to view it.

Jackie Caudill ('98 to '01 Cayuga staff) – Jackie is proudly back in action serving in the US military again. He'll soon be an officer, but he claims his pride will always be with his Olympic Team – Denmark, The 1998 Olympic Champions! Jackie "tips his hat off" to fellow staff members: Kary, Buck, Stacy, Brandy, Carrie, Emmy, Memphis, Angie, Andy, and his SNU brothers. Update: Jackie stopped by camp in 2004 & 2005 and had some stories to tell about his experiences in The Desert Storm War and more recently in Iraq. We're proud of you, Jackie! This email address is being protected from spambots. You need JavaScript enabled to view it.

Corey Reese ('85 to '91 Cayuga camper) – Corey writes that he was very happy to find the Cayuga Website and Alumni Bulletin Board. Corey had graduated from U of Penn in 1998. He informed us that fellow Cayuga camper, Amy Farkas, lived in the same Dormitory on campus. He recently graduated from Columbia Law School, passed the Bar exam, and is working in NYC. He plans to relocate to the law firm's office in London, where he intends to look-up some camp friends. He also hopes all is going well with the Cayuga staff and thanks us for making his Cayuga summers so amazing. This email address is being protected from spambots. You need JavaScript enabled to view it.

Alan Rothwell ('91 Cayuga staff) – Big Al says hello to all his old Cayuga friends especially Lori Ann Gregorczyk. Yes Alan, I (Brian Buynak) do remember you and Sonny very well. Nice hearing from you. This email address is being protected from spambots. You need JavaScript enabled to view it.

Liz Hoodless ('98 Cayuga staff) – Liz was reminiscing about Camp Cayuga and sent us an email message to post on the Alumni Bulletin Board: "I would love to catch-up with other counselors (or campers) from summer 1998 (especially Jeff R and Mike from NY). This email address is being protected from spambots. You need JavaScript enabled to view it.

Sandy Fox ('89,'91,'93 Cayuga camper) – Sandy's email stated that she had so many good memories of Camp Cayuga! She writes, "After seeing Cayuga's website, I can't believe all of the new activities and facilities you've added!" She also added that when she has children of her own (in a million years), she promises to keep the Cayuga tradition alive by enrolling them at camp. She would also like to hear from Dara & Mandy Rauschkolb. This email address is being protected from spambots. You need JavaScript enabled to view it.

Edward Brooks ('96 & '97 Cayuga camper) – Ed sent us an email stating, "Camp Cayuga is the greatest camp in the eastern region!". Thanks for the compliment Ed. We agree wholeheartedly! This email address is being protected from spambots. You need JavaScript enabled to view it.

Leonardo Candace ('80 to '84 Cayuga camper) – Leonardo is looking to get in touch with a few people that attended Cayuga during his tenure: Linda Stamat, Paul & Sean Crehan, Steve Sisselman, Rich Manfre, Andy Reale, Derek Johnston, Mindy Schultz, Adam Cohen, and Hetty Atkins. This email address is being protected from spambots. You need JavaScript enabled to view it.

David Gresser ('86 to '88 Cayuga camper) – David has many fond memories of his summers at Camp Cayuga! His memories consist of campfires (and going on a lion hunt!) and trips to "Two Guys from Italy" for some pizza. He says he truly enjoyed his three summers at Camp Cayuga! Although he hasn't been riding Quads lately he has to thank Rocky Rochmacher for the skills he had acquired. He his looking to get in touch with Rocky and sends a big hello to those campers/counselors from the summers of 1986-1988. This email address is being protected from spambots. You need JavaScript enabled to view it.

Gregg David ('84 to '87 Cayuga camper) – Greg was delighted to see our website which brought back so many memories from what seems to be ages ago. Greg David and a former camper Wendy Sisselman ('80 to '84,'86 Cayuga camper) were married November 1997 and they had a baby girl in October 2001. Congratulations! He is asking to hear from: Mike Civille, Matt Podwoski, Ginny Sloan, Steve Beals, Mike Augenstern, and Tony Antoine. Gregg also asks "does anyone still go on Lion Hunts"?! For those that remember Bob Hodgkiss (from Riflery), we will surely never forget those campfires! This email address is being protected from spambots. You need JavaScript enabled to view it.

Mia Thrash ('84 to '86 Cayuga camper) – Mia says "hi" to her cabinmates from G-24. She still thinks of everyone (counselors & campers) all the time. She writes, "We had such a great time!". Mia has graduated college and is currently working. She would rather be back at Camp Cayuga instead the regular 9-5 routine. Last we heard, Mia was engaged to be married. This email address is being protected from spambots. You need JavaScript enabled to view it.

Lauren Shababb ('90 to '94 Cayuga camper) – Lauren says "Hello" to her old cabinmates. She would like to thank Nikki Finnel for the shout-out. She is currently in Washington DC completing her PhD degree in English. This email address is being protected from spambots. You need JavaScript enabled to view it.

Here are other Cayuga Alumni who sent us a "quick hello": Danielle Treiber Moore ('86 to '89 Cayuga camper) at This email address is being protected from spambots. You need JavaScript enabled to view it.; Michael S. Roth ('69 to 76 Cayuga staff) at This email address is being protected from spambots. You need JavaScript enabled to view it.; Heather Dubrow ('84 to '92 Cayuga camper) at This email address is being protected from spambots. You need JavaScript enabled to view it.; Erin (O'Brien) Stevenson ('96 & '97 Cayuga staff) at This email address is being protected from spambots. You need JavaScript enabled to view it.; Andrew Reale ('80 to '85 Cayuga camper) at This email address is being protected from spambots. You need JavaScript enabled to view it.; and Leslie Gilbert ('74 & '75 Cayuga camper) at This email address is being protected from spambots. You need JavaScript enabled to view it..

Zak Oberrath (1998 Cayuga staff) - The Golden Boy of '98 hopes that everyone is doing great. He writes: "Mandel, I might be moving to DC so we will be neighbors, aw ain't that cute. To all my Aussie teammates: I bought a boomerang and learned how to throw it." Bealzy, McGwire or Sosa? - who is it gonna be? I miss you all, except Steve Viola (just kidding Steve). I hope to hear from you all soon." This email address is being protected from spambots. You need JavaScript enabled to view it.

Vanessa Koi ('73 to '75 Cayuga camper) – Vanessa is looking for: Rhonda Falk, Janet Hoff, Richie Spector, and Tom Asreen. What's your new email address, Vanessa? Paul Bassham ('89,'91 to '93 Cayuga staff) - One of Cayuga's favorite Englishmen is alive and doing well in England as a police officer. Paul got married on April 17, 1999. A more recent message from Paul appears on this Bulletin Board. This email address is being protected from spambots. You need JavaScript enabled to view it.

Erin Benczo ('92 to '94 Cayuga staff) - Erin visited Cayuga in 1998 and it was great to see her once again! She is now married and a school teacher in Akron, Ohio. What's your new email address, Erin? Eric Brooks ('91 & '92 Cayuga camper)- Eric emailed us to say hello and to send a shout-out to his favorite counselor from cabin B-10 , Paul Bassham. This email address is being protected from spambots. You need JavaScript enabled to view it.

Bastiaan Berkouwer ('89 to 96 Cayuga staff) - Bas is married and living in Utah. He lives in an authentic log cabin on 1½ acres with his farm animals. Bas, who is originally from Holland, is living his "American Dream"! He still visits Cayuga occasionally and was last at camp in august of 2004. This email address is being protected from spambots. You need JavaScript enabled to view it.

Lori Gregorczyk ('90 to '94 Cayuga staff) - Lori and Rob Zeitman stopped-in to visit us at camp. They are both looking and doing well. What's your new email address, Lori? Joe Henderson ('89 & '91 Cayuga staff) – Big Joe is married and living in California. He had spent some time in England with Paul Bassham. Joe is looking to get in touch with his camp buddies: Chris Wynne, Neil Thomas and anybody else from 1989 and 1991. This email address is being protected from spambots. You need JavaScript enabled to view it.

Joe & Cathy Pennigar ('93 to '96 Cayuga staff) - Joe (Cayuga's Transportation Director from 1993 to 1996) writes: "We're still holding great memories of Camp Cayuga and will for our lifetime! Thanks for the memories. By the way, we love this Alumni Bulletin Board!". Tommy Block ('67 to '72 camper and Cayuga staff) – Tommy Block (and his good-time ole Cayuga pal 'Bean' Gerald Metalsky) stopped-by Cayuga to visit us during the summer of 2002. Bean (who is from Wisconsin) enrolled his son at Cayuga in 2003. Tommy is always in-touch with old Cayuga alumni from the 1970's, and would like to here from anyone who attended camp during his tenure. He told great camp stories to the Cayuga campers during his visit and was pleased to learn that we still serve "bug juice in those ugly green plastic cups." This email address is being protected from spambots. You need JavaScript enabled to view it.

Renee Richard ('92 to '95 Cayuga staff) - Renee writes, "It's nice to read all of these messages on the Alumni Bulletin Board. It's fun to read what's on the minds of us "retired" camp people. Renee adds that she's amazed on how Cayuga has positively influenced the lives of so many individuals. She's proud to be a part of that, having worked full-time for the Cayuga Business Office. Renee always said that there's something "magical" at Cayuga. Last we heard, Renee is working hard for the politicians in Washington DC. Jan Van Merode ('96 & '97 Cayuga staff) – As the ole camp radio intercom would broadcast, "Jan to Jan… Jan to Jan… Come-in Hank!" Jan dropped us a line to say all is well in Holland. It's nice hearing from you, Jan. I'm (that's me, Brian Buynak) sorry I missed you at the Staff Recruitment Fair in Rotterdam. Send us your updated email address! Kathy Rogers ('93 to '96 Cayuga staff) – Kathy, one of our first & best "Camp Moms", sent us some cookies this summer. Thanks a bunch, Kathy. We miss you. The most recent news from Kathy is that she & Rick are still in Ohio, and practically all of their children are married! Wow! Time does fly when you're having fun! Kathy, send us your updated email address!

Heidi Tubby ('94 & '95 Cayuga staff) - Heidi was one of the best things that ever happened to Camp Cayuga and the Buynak Family. What a top-notch human being! We love you! Since she ended her camping career, Heidi has become a police officer. She once in a while travels from England back to the States to visit us and other camp friends from the past. Her holidays in the USA usually include fun places like New York City, Boston, Cape Cod, and Stone Harbor. She always has a brilliant time on her trips to the USA. This email address is being protected from spambots. You need JavaScript enabled to view it.

Dana Turnoff (1980's Cayuga camper) - One of Brian Buynak's favorite campers from sunny Florida is reportedly working in the Philadelphia area.

Rick Roth (1970's Cayuga camper) – Rick visited Cayuga and was very impressed with what he saw with all of our facility improvements. He said, "I wish I could turn back the time clock and be a Cayuga camper again!" Me too Rick!

Ed Cambell & Judy Ballantine (1980's Cayuga staff) – Ed and Judy emailed us with some big news… they got married! Congratulations! Yes, another summer romance that turned into something much more serious!

Dominick Russo (1970's Cayuga staff) – Dom was originally a counselor during the Wally Cymansky days. Twenty years later after moving from Brooklyn to the local area, Dom rejoined Cayuga as a senior staff member in 1990, 1991, 1992, 1993. During the summer of 1992 he met Cayuga's Creative Arts Director, Jen (from Georgia) who eventually moved to the local area where they got married. They're now proud parents of a son.

Dr. Gerald Metalsky (1970's camper & Cayuga staff) - Better known as "Bean" by everyone from the 70's, Gerry visited Cayuga back in 2002 and again in 2003 when his son attended Cayuga. Bean is doing well and residing in Wisconsin where he still actively keeps in touch with many of his Cayuga friends.

Melissa Fetcher (1990's Cayuga staff) – Melissa sends her regards. She is married, lives in eastern Pennsylvania, has 2 kids, and still works for the FBI. Hope to see your kids at camp some day, Melissa!

Andy Cohen ('89 to '91 Cayuga camper, '95 to '98 Cayuga staff) – Andy was one of our finest staff members. He emailed us to report that he ran into another veteran camper, Stacey Lorber. He added that after camp he attended the same college as fellow Cayuga camper Nikki Berwald. He adds, "If anyone from that time at Cayuga knows how I can contact some names from the past, like Tom Spinelli, Corey Reese, Laurie Greene, Jeff Feuerstein, and Andy Heidi, please email me! This email address is being protected from spambots. You need JavaScript enabled to view it.

Erin 'O Brien ('96 & '97 Cayuga staff) – Erin emailed us and asked that we post her "Hi Everyone" message on this Bulletin Board! This email address is being protected from spambots. You need JavaScript enabled to view it.

Al Smith ('83 to '89 Cayuga staff) – Al (a Junior Essex Trooper) was one of Cayuga's horsemanship instructors in the early 1980's and was later promoted to Director of Horsemanship. He had moved out west after his Cayuga camping career. Last we heard, he married one of Cayuga's horsemanship instructors, Lisa Carone. According to our last report, they live together on a horse farm! This email address is being protected from spambots. You need JavaScript enabled to view it.

Jillian Solomom ('93 to '96 Cayuga camper) – Jillian dropped us a line to wish everyone "hello" and writes, "Thanks for the great experiences at camp". This email address is being protected from spambots. You need JavaScript enabled to view it.

Renay (Packin) Williams ('64 to '66 Cayuga camper) – Renay wants to know the names of the Oylmpic Teams from the summer of 1964 and 1965. If anyone knows the answer, let her know. This email address is being protected from spambots. You need JavaScript enabled to view it.

Monica Pace ('96 & '97 Cayuga staff) – Monica dropped us a line asking us to post her message that she'd like to get in touch with campers and staff from 1996 and 1997, especially from Teen Campus. This email address is being protected from spambots. You need JavaScript enabled to view it.

Steve Goldfarb ('73 to '77 Cayuga camper) – Steve writes, "I'd like to know where have all the good folks gone?" Somebody help him, please! This email address is being protected from spambots. You need JavaScript enabled to view it.

Debbie Fishman ('80 to '87 Cayuga camper) – Debbie emailed us to say that she and her sister, Lisa, are living in New York and still think about their summers at Cayuga. She writes, "We'd love to hear from any fellow cayugans!". This email address is being protected from spambots. You need JavaScript enabled to view it.

Nancy Pivovarnick (1970's Cayuga camper) – Nancy Pivo writes, "The summers at Camp Cayuga were the best times of my life…. I wonder what ever happened to Sue Ventra? Where are you? Marianne K, I miss you! Marybeth, where are you?". This email address is being protected from spambots. You need JavaScript enabled to view it.

Gerald (aka "Bean") Metalsky ( '73 to '76 Cayuga staff) – Good ole Bean emailed us to say hello & to thank everyone who attended the staff reunion he and Tommy block had organized. Check out his old camp photos at http://clubs.yahoo.com/clubs/cayuga70s.

Howard Levine ('89 to '91 Cayuga camper) – Howard emailed us to say our website bought back fond memories of his 3 summers at Cayuga as a camper. This email address is being protected from spambots. You need JavaScript enabled to view it.

Laurie Rader (1970's Cayuga camper and counselor, '00-'04 senior Cayuga staff) – Laurie is one of Cayuga's "Triple Crowns". Laurie has attended Cayuga as a camper, a counselor, and now as a parent she attends Cayuga as a senior staff member. She is the Director of our Creative Arts Program. Her 2 children attend Cayuga as well. She writes, "Cayuga was the most wonderful part of my younger years". This email address is being protected from spambots. You need JavaScript enabled to view it.

Lisa Brosnan ('82 to '84 Cayuga camper) – Lisa writes, "Say hi to Candi Leonardo, Sue Kalman, Hetty Atkins, Sue Spardel, Steve Sisselman, Rich Manfre and everyone else, especially my friends from Cabin G-16." Lisa is working in the fashion industry in New York City, which is where she currently resides. This email address is being protected from spambots. You need JavaScript enabled to view it.

David Crosby ('74 to '76 Cayuga camper) – David emailed us to let everyone know that he is still in touch with his Cayuga friends, including : Smith Goldfarb, Janicola, Silverstien and Kellen. This email address is being protected from spambots. You need JavaScript enabled to view it.

Denise Kronstadt (from the 70s) – Denise (the sister of Kenny) is now a legal services attorney in New York and would love to get in touch with any "Snow Hill" campers from 1973 to 1974. We can't wait to see your two sons at Cayuga, Denise! This email address is being protected from spambots. You need JavaScript enabled to view it.

The following alumni emailed us with a "Hi to everybody" message for this Bulletin Board. They include: Steven Cohen ('68 to '71 Cayuga camper) at This email address is being protected from spambots. You need JavaScript enabled to view it., Andrew Rader ('70 to '78 Cayuga camper) at This email address is being protected from spambots. You need JavaScript enabled to view it. , Robin Halperin ('70s Cayuga camper) at This email address is being protected from spambots. You need JavaScript enabled to view it. , Dana Kellin ('70 to '76 Cayuga camper) at This email address is being protected from spambots. You need JavaScript enabled to view it., Tova Barach ('85 & '86 Cayuga camper) at This email address is being protected from spambots. You need JavaScript enabled to view it. , Laura Silverstein ('71 - '76 Cayuga camper) at This email address is being protected from spambots. You need JavaScript enabled to view it. , Don Smith ('70 to '74 Cayuga camper) at This email address is being protected from spambots. You need JavaScript enabled to view it. , Randee Silverstien/Smith ('69 to '74 Cayuga camper), Diane Silverman ('64 & '65 Cayuga camper), Del Fenton ('91 & '92 Cayuga staff) at This email address is being protected from spambots. You need JavaScript enabled to view it. , Gary Pivovarnick ('68 to '72 Cayuga camper) at This email address is being protected from spambots. You need JavaScript enabled to view it. , Elizabeth Kellin-Prodan ('70 to '77 Cayuga camper) at This email address is being protected from spambots. You need JavaScript enabled to view it. , and Randy Kaminsky–Romash ('69 to '74 Cayuga staff) at This email address is being protected from spambots. You need JavaScript enabled to view it..

Diana Messina ('73 to '77 Cayuga camper) – Diana is looking for Laura Silverstien, Liz Kullen, Pam, Beth Lederman and anyone else who was in her cabin. This email address is being protected from spambots. You need JavaScript enabled to view it.

Sara Barrett ('88 & '89 Cayuga camper) – Sara would love to hear from anyone who was in Cabin G-5 (in 1988) or Cabin G-8 (in 1989). This email address is being protected from spambots. You need JavaScript enabled to view it.

Nikki Finnel ('92 & '93 Cayuga camper) – Nikki sends a shout-out to her old cabinmates Lauren Shabbab, Lori Todd, Leah Aknay, Stephanie Rigberg and Sherry Stricker. This email address is being protected from spambots. You need JavaScript enabled to view it.

Jeff Anderson ('91 & '92 Cayuga staff) reports that his great Cayuga Memories force him to pursue his dream of opening his own summer camp in the future. Good luck Jeff! This email address is being protected from spambots. You need JavaScript enabled to view it.

Phylliss (Kopman) Smith (Cayuga camper) – She writes, "This is Phylliss Smith, formerly known as Phyllis Kopman. I have been reading all your alumni messages on the Bulletin Board, and began to reminisce about my childhood years at Cayuga… Sorry I haven't emailed sooner and sorry for not attending the reunion. Maybe next year... that would be a great birthday present, wouldn't be?! A quick update: I live in Dallas, Texas and I'm married to Don Smith. We have 2 gorgeous children (Deanna and Collin). I'm currently freelancing as a producer for all the TV network bureaus. That's my news. I thought it was about time I came out of the woodwork and posted a message on your Alumni Bulletin Board. Thanks to all of you for reawakening my camp spirit!" This email address is being protected from spambots. You need JavaScript enabled to view it.

Jon Delise ('92 to '97 Cayuga camper) – Jon asked us to post a message on this Bulletin Board for Lauren Viola and Adam Wynn and to all of the campers and counselors whom were at Cayuga from 1992 to 1997. Jon wants to hear from you! This email address is being protected from spambots. You need JavaScript enabled to view it.

Steve Crosby ('70s Cayuga camper) – Steve emailed us and wrote, "How is Laura Silverstein? Any news from her? Hey Dom Russo, do you remember me? You were my cabin counselor back in 1975? I heard you moved into the area as a school teacher." You're right, Steve. Dom moved to the local area several years ago. He joined the Cayuga senior staff team for 4 summers back in the 1990's. This email address is being protected from spambots. You need JavaScript enabled to view it.

Terri Cahn ('72 to '76 Cayuga camper) – Terri writes, "My summers at Cayuga are the greatest memories I have from my childhood. My daughters Danielle and Jordie both attended Cayuga for a total of 10 years. They got their first taste of that magical Cayuga Spirit during their first summer at camp. Both girls loved camp and couldn't wait to go back the following summer… It's quite a thrill when you can sing the same camp songs as your children!" Terri adds, "By the way, has anyone seen or heard anything from Lee Diamond?" This email address is being protected from spambots. You need JavaScript enabled to view it.

Lonnie Walker ('96 & '97 Cayuga staff) – Lonnie emailed us to say, "Hey everyone, I would like to let everyone know that I moved to Virginia. I am now working at a law firm, while I'm paying my way through school (just to get a paper saying "I'm smart". I'd really like to hear from any other campers and staff that know who I am". This email address is being protected from spambots. You need JavaScript enabled to view it.

Steve Feldman ('70 to '76 Cayuga camper, '77 Cayuga staff) – Steve writes, "Hi fellow campers. I came across this website and when I saw the names of some of you who I do remember from my years at Cayuga, it brought back a lot of happy memories. I especially remember the canoe trips down the Delaware River, Ghost Town Amusement Park (The old Rocky Glen), The Wayne County Fair in Honesdale, the annual Camp Olympics, and of course the Snipe Hunts. (By the way Steve, the snipes have flown away forever!) I sometimes still think I can see those things flying around at camp. When I left Cayuga for the last time in 1977 I took a part of it with me which I still carry inside of me today. I'm also looking for Lee Valone, Elliot Glantz (Bells) Tom Asreen and Dom Russo." Last we heard, Steve was living on Staten Island with his wife Laura and their 2 sons, Ian & Sean. This email address is being protected from spambots. You need JavaScript enabled to view it.

Pam Webber ('84 to '86 Cayuga camper) – Pam writes, "I have so many fond memories of Cayuga and I still keep in-touch with a number of camp friends to this day! Did you know that after many years of not seeing each other or being with each other, two Cayuga campers tied the knot and got married. That's right, Wendy Sissleman and Gregg David did it. I think they were King and Queen of the Prom one summer at Cayuga! Isn't that wild?!" This email address is being protected from spambots. You need JavaScript enabled to view it.

Paul Sokoloff ('89 to '94 Cayuga camper) – Paul emailed us to say, "Hey, I was looking for anyone who would know the exact year that Chris Wynn was assigned as a counselor in cabin B-13. Ollie was one of our other counselors in the cabin that summer. We had "B-13 Pride" that summer! Also, the same individuals would mostly likely remember: Kevin Nurry, Grant Freeman, Jessica Vogel and Kerry Ronan? Jessica McClave ('97 & '98 Cayuga staff) – Jessica writes, "Hello to the staff and campers of 1997 and 1998. I miss you all. I've moved out West, but still want to continue hearing from all of you". This email address is being protected from spambots. You need JavaScript enabled to view it.

Sandra Stegmeier Barnes ('63 to '65 Cayuga staff) – Sandra Stegmeier directed our Waterfront Program, as well as instructed various land sports during her 3 year tenure at Cayuga. She writes, "I met my husband (Thomas Barnes) at Camp Cayuga. We have told our children of the great times we had as staff members and the many lifetime friends we met." This email address is being protected from spambots. You need JavaScript enabled to view it.

Heather Dubrow ('86 to '91 Cayuga camper) – Heather writes, "Just wanted to say hello to everyone out there. I am currently living in Florida and am completing my Masters degree in Social Work. Congratulations, Heather! This email address is being protected from spambots. You need JavaScript enabled to view it.

Maureen "Mo" (Osmun) Kiley ('93 & '94 Cayuga staff) – Maureen emailed us to say, "I would like to hear from any campers or counselors from 1993 and 1994. Hope everyone is doing great." This email address is being protected from spambots. You need JavaScript enabled to view it.

Shaun Durkin ('98 Cayuga staff) – Shaun writes, "Hi to all the boys who were in Cabin B-7 in 1998, including Marc Lande and the rest of the gang. Thank you all for a really great summer". This email address is being protected from spambots. You need JavaScript enabled to view it.

Heather Mashnouk ('95 & '96 Cayuga staff) – Heather writes, "Hello everyone, how I've missed you! I am a teacher in Texas and would like to hear from any of my fellow staff members or campers." This email address is being protected from spambots. You need JavaScript enabled to view it.

Ben Pandis (1990's Cayuga staff) – Ben (who represented VIP Travel Agency in Paris) writes, "I was one of your counselors and I would like to say hello to Mike and Brian Buynak. I'll never forget those guys and my summers at camp. Camp Cayuga is still in my heart. I can still remember hearing "The Thought for the Day" each morning at flagpole assembly. Mike exhibits an incredible joy of life." This email address is being protected from spambots. You need JavaScript enabled to view it.

Elliot Glantz (Bells) - Elliot visited Cayuga during the summer of 2000 with his wife and daughter. He's looking good and owns his own textile company. We exchanged a lot of good stories about the Virginia Beach trip and the Bicycle trip throughout Ontario, Canada. His big question: What ever happened to Bob Farley, the Trip Director at the time? This email address is being protected from spambots. You need JavaScript enabled to view it..

Todd Brown ('86 to '94 Cayuga camper) – Todd emailed us to say, "I can't believe I found a website for Camp Cayuga!! Send a big hello to the entire Buynak Family. You guys are the greatest!". This email address is being protected from spambots. You need JavaScript enabled to view it.

Scott Getz (1970's Cayuga camper) – Scott writes, "I went to Camp Cayuga back in the 70's. Mike Buynak was the Camp Director then, with Wally Cymansky as his Assistant. My cousin was Mike Roth also attended Cayuga at the time and was the Waterfront Director. I remember my cabin counselor was in charge of the Horsemanship Program. His name was Roy Frieband. He was a great guy and taught me the Cayuga Handclap – which I still remember"! By the way Scotty, Roy is a doctor residing in Arizona. He specializes in the medical computer industry. This email address is being protected from spambots. You need JavaScript enabled to view it.

Ed Purcell ('77 to '80 Cayuga camper) – Ed emailed us to say, "I enjoyed looking over your website. It brings back good memories to see photos of Cayuga". This email address is being protected from spambots. You need JavaScript enabled to view it.

Emily Cohen ('82 to '85 Cayuga camper) – Emily writes, "I was taking a break from end of semester cramming (finishing my MBA at Wharton), when I stumbled across your website. What great memories it brought back! Please post a 'Hello' to all those campers from the early 1980s. They can send me an email to let me know how they're doing". This email address is being protected from spambots. You need JavaScript enabled to view it.

Wayne Falk ('75 to '78 Cayuga camper) – Wayne emailed us to say, "Wow, this website truly brings back memories! Does anyone know where Larry Pistone is?" This email address is being protected from spambots. You need JavaScript enabled to view it.

Matt Eccles ('93 Cayuga staff) – Matt writes, "Hello to my cabinmates and all those who enjoyed their time on WCAY radio in 1993". This email address is being protected from spambots. You need JavaScript enabled to view it.

Sally Burton Szabo ('83 to '85 Cayuga staff) – Sally writes, "Hi everybody! I often think of my girls from cabin G-5 and the boys who were devoted polar bears back in the days when I was called the Mama Bear. I would love to hear from those I knew so long ago! All my "kids" must now be adults with kids of their own! It sure was a lot of fun being the Waterfront Director for those 3 precious summers". This email address is being protected from spambots. You need JavaScript enabled to view it.

Zeena Berkowitz (Wathen) (1960's Cayuga camper) – Zeena emailed us to say, "I'm looking for Marsha Rothstein and Erica from Englewood Cliffs. I remember a counselor who lived in a farmhouse close by. We had baked an apple pie! My favorite activities were archery and horseback riding". This email address is being protected from spambots. You need JavaScript enabled to view it.

Joanne Gebhardt (Repasky) ('88 & '89 Cayuga staff) – Joanne writes, "I was the office manager in the Pennsylvania camp office during the summers of 1988 and 1989. I had fantastic summers up there in Honesdale and met some wonderful people too! I'd be delighted to learn what some of them are doing nowadays. Like Chris Shulman and Rocky Rockmacher? I also remember Al Smith, the Horsemanship Director. He taught my son how to ride a horse during his first summer at Cayuga. He was only 5 years old at the time. Thanks Al, she still loves horses to this day!" This email address is being protected from spambots. You need JavaScript enabled to view it.

Scott Heffes ('90 to '93 Cayuga camper) – Scott writes, "Cayuga gave me so many amazing and terrific memories, from my first kiss behind the rec hall (I finally admit it) to riding Sniper (my favorite horse) and Moose (my second favorite horse) on the Indiana Jones Trail. Those trail rides were great. And of course, I remember the Annual Camp Olympics. Give my best to Brian Buynak and Trish. I remember when she was pregnant back in 1992. By the way, Rachel Hirsch are you out there?" This email address is being protected from spambots. You need JavaScript enabled to view it.

Andy Brown ('97 Cayuga staff) – Andy emailed us to say, "I hope every one is well. I welcome any of my previous campers or colleagues to get in touch. It would be great to hear how everyone is getting on." This email address is being protected from spambots. You need JavaScript enabled to view it.

Jason Cocovinis ('87 to '90 Cayuga camper) – Jason says, "I'm sitting at my desk remembering back on my 4 summers at Cayuga. They were great years! I wish I had the time now to do the things I did back then, like riflery, raiding (just kidding), and parading around stage with my tennis racket (using it as a prop for a guitar). Now, I'm a writer/producer at a special events firm in Manhattan." Jason sends a "hello" to Jacob Black, Jen Goldberg, Debbie Pianko, Melissa (last name ?), and his 2 cabin counselors (Warren "Rocky" Rochmacher & Dennis Stout)." This email address is being protected from spambots. You need JavaScript enabled to view it.

Lisa Rothstein ('71 to '75 Cayuga camper) – Lisa writes, "I am wondering if there are any 'Ole' Cayuga Kids out there? I have been living in Paris for the past 9 years. My sister, Robin, who also had attended Cayuga, told me about your website. It's an excellent website and it sure did bring back a lot of great memories for me… I miss those 'hockey pucks' (actually, the veal cutlets were very good!)." This email address is being protected from spambots. You need JavaScript enabled to view it..

Darci Steranko (1990 Cayuga staff) – Darci emailed us to say, "I wish everyone well at Cayuga. Jim and I still talk about how much fun we had together as cabin counselors. The summer of 1990 had definitely changed our lives! We fell in love and we're happily married, thanks to Cayuga!" This email address is being protected from spambots. You need JavaScript enabled to view it..

Andy Peters ('87 to '89 Cayuga staff) – Andy writes, "I would love to hear from anyone who attended Cayuga in '87 or '89. I am a lawyer in England, married, and have a daughter (Isabelle). I miss camp." This email address is being protected from spambots. You need JavaScript enabled to view it..

Joanne Gebhardt-Repasky (1988 Cayuga staff) – Joanne emailed us to say, "I would love to hear from the counselors & senior staff that worked at Cayuga in 1988. My daughters were ages 4 and 6 at the time. They're adults now! I am just amazed at how fast time flies. Camp seems like it was only yesterday." This email address is being protected from spambots. You need JavaScript enabled to view it..

Lauren Jacobi ('83 to '92 Cayuga camper) – Lauren writes us again to post on the Alumni Bulletin Board: "I would love to hear from some of the Cayuga campers and counselors, especially Mike Davis from England, Mike Shaw from Ohio, and my favorite Cayuga counselor Wendy Soden… I was 'Camper of the Year' twice! My brother 'BOGIE' also attended Cayuga for many years, along with my cousins (the Bailin triplets)". This email address is being protected from spambots. You need JavaScript enabled to view it.

Kary Ament (1999 Cayuga staff) – Kary writes, "I would love to hear from everyone. I can't believe it's been so long since I attended Cayuga. I miss the Cayuga spirit, those days of lifeguarding at the pool, and listening to the camp gossip on the cabin porch at night. I still have the 1999 Camp Cayuga Olympic Participation Paddle which is a permanent fixture now! GO AUSTRALIA! Thanks for such wonderful memories!" This email address is being protected from spambots. You need JavaScript enabled to view it..

Elyse Merman ('78 to '85 Cayuga camper) – Elyse emailed us to say, "I loved being a camper at Cayuga for all those great memorable summers. I still keep in touch with my camp friends after all these years. Way to go Cayuga!" This email address is being protected from spambots. You need JavaScript enabled to view it..

Renee Marchak-Abstender (1987 Cayuga camper) – Renee says she had a wonderful summer at Camp Cayuga, and sends a "hello" to her cabinmates: Rhonda, Kristen, Jen, Melissa (as in "Melissa and Scott"), Rita, Stacey, and Cheryl and also send her regards to Sunny Singer, Barbara Berwald, and Willie Medina. Renee writes, "I'm so thankful for all the fond memories of my summer at Cayuga." This email address is being protected from spambots. You need JavaScript enabled to view it..

Michael Roth ('69 to '76 Cayuga staff) – Mike was a camper and counselor at Camp Cayuga. He writes, "I had the time of my life", and says that after all of these years, he's still trying to emulate Tony Iuso and Bub (Mike Pivo) at his job! This email address is being protected from spambots. You need JavaScript enabled to view it..